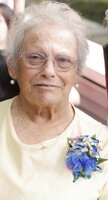 Helen R. Cranston
Helen Rita Cranston (nee Stepanek) of Morris, Illinois passed away peacefully, Wednesday afternoon, March 1, 2023, one week shy of her 76th birthday.
She is preceded in death by her beloved husband James in April of 2021, her father in September of 1977, and her mother in May of 1999.
Helen was born March 8, 1947, in Chicago, Illinois, the only child of Edward and Winifred Stepanek. Her early life was spent on the southside of Chicago surrounded by family, especially her numerous cousins. Helen graduated from Mercy High School and attended St. Denis Catholic Church where she and her husband were married in 1967. Not long afterwards, Helen and James moved to the south suburbs, first to Matteson, IL and then to Morris, IL. While raising her children, Helen worked as a hair stylist from her home and was a Tupperware consultant. Later she enjoyed a successful career as a Realtor and Real Estate Broker. She took great pleasure in helping people find their dream home and guiding them through the homebuying process. She also helped to train future agents as a licensed real estate instructor.
Helen is survived by her sons and daughter, James (Gina), Steven Sr. (Beth), Edward (Kelly), Abigail, Zachary, and David Cranston as well as Michael Thompson (Jacquie); grandchildren, Stephanie (Krystal), Kaylee, Emily, Steven Jr., Daniella, Courteney, Thomas, Michael, and Daniel; and one great-granddaughter, Alexa.
Helen and James were foster parents to many children over the years and also served as host parents to children from Ireland in the 1980's through the Irish Children's Foundation.
Helen was a cherished sister-in-law, aunt, godmother, cousin, and friend to so many who will miss her immensely, particularly her unconditional love and support.
The family would like to extend their heartfelt gratitude to DaVita Dialysis Center for their many years of assistance, as well as Lifeways Hospice Care for their exceptional care and compassion.
Visitation for Helen will be Friday March 10, 2023, from 4-9 p.m. at the Fred C. Dames Funeral Home 1201 W. Rt. 6 (at Deerpath Drive) in Morris. Funeral services will begin Saturday morning, March 11, 2023, 9:15 a.m. at the funeral home to Immaculate Conception Catholic Church 600 East Jackson Street, Morris where a Mass of Christian Burial will be celebrated at 10:00 a.m. Interment will take place Monday March 13, 2023, 1:30 p.m. at Abraham Lincoln National Cemetery in Elwood, IL.
In lieu of flowers, donations can be made to a charity of your choice.