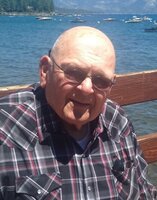 Fredric R. Hauch
Fredric R. Hauch, Sr. passed away peacefully in his sleep at home in Morris, IL on Monday, March 6, 2023, with his wife Judy by his side. An only child, Fred was born on September 21, 1937, to the late Fred and Alvina (Mielke) Hauch in Chicago, IL. He was a graduate of Lindbloom High School in Chicago and also spent time there on the football team. After high school, Fred began working in shipping and receiving at Sears Roebuck. Through mutual acquaintances there, he met Judith Beebe and the two were married on December 28, 1963. The two of them spent time running a fishing resort in Bull Shores, AR for six years. Returning to Illinois he worked as a building manager for a number of years before retiring in 1999. After retiring, Fred enjoyed his free time with his grandchildren, who affectionately referred to him as Pa. Fred loved watching games on TV and coaching his son's Little League, and he instilled a love of sports in all his grandkids. He also enjoyed fishing, playing games with good friends, and his dogs, reading, and listening to blues music. Above all though, his favorite thing to do was spend time with family, especially Judy.
Fred is survived by his loving wife of nearly 60 years, Judith Hauch, and his sons Fred (Kim), Mark
(Stephanie), and his beloved five grandchildren, Danielle, Emily, Alyssa (fiancé Jon), Chase, and
Trey as well as numerous cousins, nieces, and nephews. He is preceded in death by his parents
and grandson Zachary Hauch.
All friends and family are invited to a celebration of Fred's life, to take place Saturday, March 11, 2023, at the Fred C. Dames Funeral Home, 1201 W. U.S. Route 6, Morris from 1:00 p.m., until the time of services at 4:30 p.m. Pastor Josh Voigt officiating. Interment will take place, Monday, March 13, 2023, at Chapel Hill Gardens West in Oakbrook Terrace. For more information, please call 815-942-5040, or to leave an online condolence, visit his Memorial Tribute page at www.fredcdames.com.