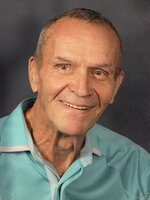 Richard K. Gilchrist
Richard K. Gilchrist
Age 90, passed away peacefully, Friday morning, March 10, 2023, at the LaSalle Veterans Home.
He was born in Chicago, IL December 6, 1932, to the late Ida Mae (Kallman) and Ralph W. Gilchrist. He was raised in Mazon, IL where he resided most of his adult life. Dick was a graduate of Coal City High School. He was a U. S. Army Veteran who served during the Korean War. He married Donna (Daily) Gilchrist in 1958 and enjoyed life raising their family on the farm.
After returning from the military Dick worked at the Morris Paper Mill and farmed part-time. He soon got the opportunity to farm full time and spent a lifetime enjoying that as well as, planting and selling acres of sweet corn, putting in a large garden, woodworking, spending summers boating and skiing at the Coal City Area Club, and anything else that he could find to keep busy. He enjoyed family and friends and any kind of gathering where everyone could get together.
Surviving are his daughters, Penny (Scott) Graham, Barb (Ken) Spelde, and Bev (Tim) Halliday; nine grandchildren; 10 great-grandchildren; two brothers, Dave (Linda) Gilchrist, John D. (Sharon) Gilchrist; brother-in-law, Larry (LaVerta) Daily and sister-in-law, Joanne (Jerry) Helland. Several nieces and nephews also survive.
He is preceded in death by his parents and wife Donna in 2021.
All friends and relatives are invited to join Dick's family on Friday, March 31, 2023, at New Community Christian Church, 705 E. Washington St., Morris, where a Celebration of Life will take place from 10:30 a.m. until services begin at 11:30 a.m. Light refreshments and fellowship will be provided before leaving for the cemetery.
Committal prayers and military honors will begin at 1:30 p.m. at Abraham Lincoln National Cemetery. All wishing to attend should arrive at the Cemetery information center at 1:15 p.m.
In lieu of flowers, memorials in Dick's name can be made to Illinois Veterans Home of LaSalle, 1015 O'Conor Ave., LaSalle, IL, 61301.