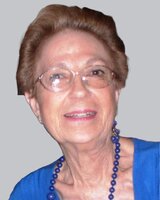 Mary Ann Mazzoni
Mary Ann Mazzoni, age 79, of Huntley, IL, formerly of Shorewood, IL, passed away on May 13, 2023, at her home in Huntley Springs Retirement Resort, surrounded by her loving family. She was born the daughter of the late Willard Paul, Sr. and Bertenia Marie (nee Spears) Bishop on June 8, 1943, in Fresno, CA, where her father was stationed while in the Army. One year later, her brother was born in Arizona. After Mary Ann's father's Honorable Discharge, the family passed through Marshal, Missouri, to visit her mother's family en route to her father's hometown, Terra Alta, West Virginia, where they lived until she was in fourth grade. Thereafter the family lived in various parts of West Virginia and Pennsylvania, before settling in La Grange, Illinois in 1959. Mary Ann attended Lyons Township High School in La Grange, IL her junior and senior years, graduating with the Class of 1961.
She married the love of her life, Peter, in 1966, and together they lived in Maryland for one year before his Honorable Discharge from military service. They returned to Chicago for three years, before settling in Addison, IL to raise their four children, retiring to Shorewood, Illinois in 2013. Mary Ann was a former member of St. Joseph Catholic Church in Addison, IL, and Holy Family Catholic Church in Shorewood, IL.
She is survived by her loving husband of 57 years, Peter Bruno Mazzoni; children, Michael Aladino (Angela) Mazzoni, Paul Bruno (Julie) Mazzoni, Christopher Scott (Jennifer) Mazzoni, and Aimee Elizabeth (William) Cosban; and grandchildren, Anthony Michael, Madalyn Norabel, Rose Marianna, and Grace Juliana Mazzoni.
She was preceded by her parents and one brother, Willard Paul Bishop, Jr.
Funeral Services for Mary Ann Mazzoni will be held privately by the family.
In lieu of flowers, memorials in her name to St. Jude's Children's Research Hospital would be appreciated.
For more information, please call the Fred C. Dames Funeral Home at 815-741-5500 or visit her Memorial Tribute at www.fredcdames.com where you can share a favorite memory or leave an online condolence.