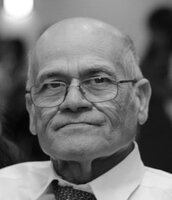 Delfino Orozco
Age 84, of Plainfield, IL, passed away peacefully on Sunday, May 21, 2023 at home with family at his side.
He was born in Zamora, Mexico to the late Rafaela and Juan A. Orozco.
He is survived by his son, Ralph (Theresa) Orozco; his grandchildren, Jason Orozco, Jessica (Gilberto) Gamboa, Raphael (Nallely) Orozco, Jr., Alexandra Amaya, Jaime E. (Stephanie) Amaya, Jr., Aaron Amaya, Emili Amaya, Carlos Amaya, Isabelle Orozco and Matthew Orozco; his great-grandchildren, Julian, Natalie, Thiago and Nico; siblings, Fernando (Margarita) Orozco, Rosario Yanez, Elena (Jose) Garcia, Ricardo (Martha) Orozco; and many nieces and nephews.
Preceded in death by his wife, Maria C. Orozco; daughter, Martha (late Jaime) Amaya; two sons, Alejandro and Juan G. Orozco; sisters, Lupe Reyes and Anita Garcia; one brother, Jose L. Orozco.
Delfino retired from Nabisco in Chicago after 46 years of service. He will be remembered as a dedicated family man who was happiest being with his loved ones and watching his grandchildren grow and prosper.
Visitation for Delfino will be Wednesday, May 24, 2023 from 4 - 8 p.m. at the Fred C. Dames Funeral Home, 3200 Black Rd. (at Essington Rd.) Joliet. Funeral services will begin at the funeral home Thursday morning, May 25, 2023 at 9:00 a.m. with the a Funeral Mass to follow at 10 a.m. at St. Joseph Catholic Church 1329 Belleview Avenue in Rockdale, IL. Interment Queen of Heaven Cemetery, Hillside, IL.
In lieu of flowers, memorials in his name can be made to St. Jude Children's Research Hospital.
For more information please call (815) 741-5500 or visit his Memorial Tribute at www.fredcdames.com where you can share a favorite memory or leave a condolence.