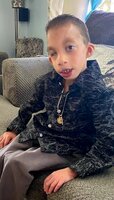 Niko James Rodriguez
Niko James Rodriguez
Niko James Rodriguez, of Rockdale, passed on from this life at the young age of 8, on Sunday, May 21, 2023, at Ascension St. Joseph Medical Center in Joliet. He was born in Oak Lawn, IL, on July 4, 2014, the son of Abel Rodriguez and Brianna McEvilly. Niko attended Lynne Thigpen Elementary School in Joliet.
Niko lived his life, and lived it wonderfully! He was named student of the month at his Elementary school and his teachers couldn't say enough about his hardworking, upbeat attitude. He always greeted every challenge no matter the size with a wide smile and a willingness to give his all, regardless of his available energy. From the moment Niko's parents prayed over him at two weeks of age asking for a miracle, to the moment that he drew his final breath, God worked through Niko. His light shone through Niko when he listened to music, played outside and on the swings, shared hugs and squeezes, played on his device, or enjoyed the outdoors watching the bubbles dance on the breeze. For his entire life, Niko beat the odds starting at birth by being given only days to live. His uncommon strength, inextinguishable joy, and unbridled love for life will always serve as a goal for those who knew him to strive toward. Overcoming the physical limitations caused by his genetic affliction, he was an unquestionable miracle in life, and he is now undoubtedly a perfect angel in heaven.
Niko is survived by his parents, Abel Rodriguez, Jr. and Brianna McEvilly; his sister, Amaya Rodriguez; maternal grandparents, Lisa (Dennis) Carey and Brian (Denise) McEvilly; his paternal grandparents, Abel and Melissa Rodriguez, Sr.; and his aunts and uncles, Samantha (Garrett) Matichak, Collin Otis, Ryan Carey, Matthew Ramones, Isaac (Samantha) Rodriguez, Natasha Rodriguez, Desirea (Gonzalo) Manzo, Bianca Rodriguez, and Zachariah Rodriguez. Several cousins also survive.
He is preceded in death by uncle, Michael Ramones.
Funeral Services for Niko James Rodriguez will be held at 9:00 a.m., on Tuesday, May 30, at the Fred C. Dames Funeral Home, 3200 Black (at Essington) Rd., Joliet, to St. Mary's Catholic Church in Minooka, where a Mass of Christian Burial will be celebrated at 10:00 a.m. Interment to follow at St. Mary's Cemetery, Minooka. Visitation will be held on Monday at the funeral home from 4:00 p.m. until the time of prayer service at 7:00 p.m.
In lieu of flowers, the family request memorials be made to Niko's gofundme page
For more information, please call 815-741-5500, or visit his Memorial Tribute at www.fredcdames.com where you can share a favorite memory or leave an online condolence.