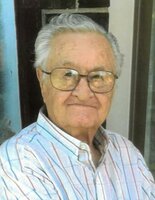 Rudolph A. Silvestrini
Rudolph A. Silvestrini, age 94, passed away peacefully on Tuesday, May 23, 2023 at the Lightways Hospice Home in Joliet. Rudolph was born on February 17, 1929 in Milwaukee, WI to the late August and Lillian Silvestrini, but moved to the Joliet area at a young age and spent the remainder of his life there. He was a proud veteran of the United States Army, serving in the 10th Mountain Division. Following his service, Rudy started his own business, specializing in the making of pizzas and ravioli. Many Joliet families have at one time or another tasted his work via school and youth athletic fundraisers. When not at work or taking care of his family, Rudy was also known to enjoy watching the horse races.
Rudy is survived by his children, Lore (the late Joseph) Nahas and Pati (Walter) Zawadowski; his grandchildren, Joseph Nahas, Stacey (William) Thomas, and Trisha (Daniel) Kautz; and his great grandchildren, Trevor Kautz, and Alyssa and Abigail Thomas.
Services for Rudolph A. Silvestrini will be on Sunday, May 28, 2023 from 10 a.m. until time of services at 12:00 p.m. at the Fred C. Dames Funeral Home, 3200 Black (at Essington) Rd., Joliet. Cremation rites will be accorded following services, and Rudy will be laid to rest at Abraham Lincoln National Cemetery in Elwood with full military honors at a later date. For more information, please call 815-741-5500, or to leave an online condolence, visit his Memorial Tribute page at www.fredcdames.com.