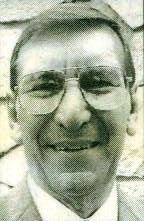 Obituary of Martin Mackay
Martin P. Mackay
Age 73. Passed away August 16, 2007 at his Joliet home, surrounded by his devoted family.
Born April 28, 1934 in Joliet to the late Martin and Anna (nee Blahunka) Mackay, he was a lifelong area resident. He was a graduate of Joliet Township High School, he received his undergraduate degree from Northern Illinois University, and he received his Master of Science degree from the University of Illinois-Champaign An educator since 1959, Martin served as a teacher, guidance counselor and school psychologist for Lincoln-Way High School District. From 1967 to 1989, he served as the founding director of Lincoln-Way Area Special Education Co-Op Program. After retiring, he worked for ten years as a part-time Director of Special Education for Oak Park-River Forest School Districts. In September 2002, the Martin P. Mackay Education Center was named in his honor in recognition of his pioneering work in providing services for children with disabilities and special needs.
Mr. Mackay was a devoted husband who for 48 years called his wife his best friend and bride. He was a beloved father to his four children who was involved with the schools and community. He served on the Joliet Diocesan Board, former member and past president of the Manhattan Lion's Club. His love for sports led him to be a coach for his children's sport teams and president of the Manhattan Baseball Association, and a member of the Old-Timer's Baseball Association. Marty enjoyed spending time at his cabin in northern Wisconsin with his wife and family.
Surviving are his beloved wife, Janice A. (nee Plitt) Mackay; four children, John (Dawn) Mackay of Mokena, Robert (Jamie) Mackay of Sugarland, TX, Joseph (Virginia) Mackay of Elmhurst, and Jennifer (Casey) Beynon of Cumming, GA; 11 grandchildren, Kari, Brendan, Tyler and Alec Mackay, Mariah and Mercedes Mackay, Tessa, Madeline and Jack Martin Mackay, and Kylie and Leah Beynon; and one brother, Arthur (JoAnne) Mackay of Joliet. He is also survived by numerous brothers-in-law, sisters-in-law, and nieces and nephews who lovingly referred to him as their favorite Uncle Moose.
He was preceded in death by his parents, Martin and Anna Mackay; one granddaughter, Tori Mackay; and one sister, Mathilda Mackay.
Funeral services for Martin P. Mackay will be Monday, August 20, 2007 at 9:15 a.m. from the funeral home chapel to the Church of St. Jude for a Mass of Christian Burial at 10:00 a.m. Rev. Fr. Joseph Noonan will officiate. Interment will be in Ss. Cyril and Methodius Cemetery. In lieu of flowers, memorials to the Martin P. Mackay Education Center, 516 S. Cedar Road, New Lenox, IL 60451 Attn. Debbie Heffernon. Visitation Sunday, August 19, 2007 from 3-8 p.m. at:
FRED C. DAMES FUNERAL HOME
3200 Black at Essington Rds., Joliet
For Information: (815) 741-5500
www.fredcdames.com