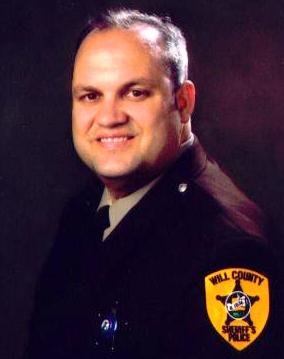 Obituary of Send of
John D. Ruettiger
"Rudy"
Age 38. At rest peacefully Saturday, July 14, 2007 at the Joliet Area Community Hospice Home, with his loving family by his side. Born in Joliet on December 30, 1968 to Bob and Sue (Atchley) Ruettiger, he was a lifelong area resident. Graduate of St. Patrick Grade School, Providence High School and attended Joliet Junior College. John spent the last 18 years with the Will County Sheriff's Department, serving the department as a Detective, Hostage Negotiator and Arson Investigator. He was the recipient of numerous meritorious commendations. An active volunteer for the Crisis Line. Member of the Fraternal Order of Police. He was an avid fisherman. John took great pride in mentoring young children throughout the Will County Area.
Surviving are his loving wife of 18 years, Lynn (Wysock) Ruettiger of Manhattan; two children, Andrew and Amber Ruettiger; his parents; two sisters, Renee (Vince) Gambino of Shorewood and Laura (Jake) Jakovich of Shorewood; son-in-law of Edward and Frances (House) Wysock of Braidwood; brother-in-law of Brett Wysock of Braidwood and Kurt (Jenny) Wysock of Shorewood; also survived by numerous aunts, uncles, nieces, nephews, cousins, fellow deputies and numerous dear friends.
The Ruettiger Family would like to extend a sincere thank you to all the dear friends, family, caregivers and staff of Joliet Area Community Hospice, who have extended their prayers, love and special gifts during this difficult time.
Celebration of John's life will be held on Friday, July 20, 2007 at 9:00 a.m. from the funeral home to St. Patrick Catholic Church, Joliet for a Mass of Christian Burial at 10:00 a.m., Fr. Vytas Memenas, Will County Sheriff Chaplain, celebrant. Interment Woodlawn Memorial Park II. In lieu of flowers, memorials in his name to benefit his children's education would be appreciated. Visitation Thursday 2-9 p.m. at:
FRED C. DAMES FUNERAL HOME
3200 Black at Essington Rds., Joliet
For information: (815) 741-5500
Directions to St. Patrick Catholic Church
Send a message of
Sympathy with our
Online Guestbook.