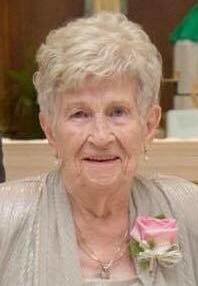 Obituary of Lorraine Welter
Lorraine Margaret Welter
Lorraine Margaret Welter (née Schultz), 95, a resident at Park Pointe Morris Senior Living of Morris, IL, passed away November 25, 2016 at Morris Hospital with her loving family by her side.
Lorraine was born on May 26, 1921 in Joliet, IL to Arthur and Hilda (née Carlson) Schultz. She was raised and attended school in Joliet. She was a hard worker, and held two jobs at both an ammunition plant and Topps Drug store during the World War 2 era to support her family. She did this all while raising seven children. Later in life, she worked for Happy Products as a secretary for nearly 20 years. Lorraine was a member of St. John's Lutheran Church, where she enjoyed membership in their Naomi Circle.
She is survived by her beloved children, Raymond (Catherine) Walls, Daniel "Danny Boy" Welter, Christine Cravens and Matthew Welter (Kerri Kaiser), and by over one hundred grandchildren, great-grandchildren and great-great grandchildren combined.
She was preceded in death by her husband, Daniel Welter; mother, Hilda Schultz (née Carlson); father, Arthur Schultz, Sr.; brother, Arthur Schultz, Jr.; brother, Robert (Bobby) Schultz; daughter, Sherril Mueller; daughter, Jacqueline Stewart; son, Robert Walls; daughter, Sharlyn Walls, and an unborn child.
Lorraine enjoyed spending time with her family. She was a devoted mother, grandmother, great-grandmother and great great-grandmother. Her family was everything to her, just as she was to them. She will always be remembered by the stories she told, the songs she sang, doing the hokey pokey, the delicious meals she made, how much she loved candy (especially chocolate), her favorite color purple, her favorite flowers pansies and irises, the smell of Ben Gay or lavender, her apartment always being 90 degrees, all the summers that were spent at Woodhaven Lakes, and her sayings (her favorite being "I love you a bushel and a peck and a hug around the neck"). She was an amazing, spirited and strong woman.
Please join her family for a memorial service, which will be held at St. John Lutheran Church, 2650 Plainfield Road, Joliet, IL at 11:00 AM on Saturday, December 17, 2016 with Reverend Peter Holmer officiating. A visitation will be held at 10:00 AM prior to the service. Luncheon at the church will immediately follow the service. In lieu of flowers, the family requests memorial donations be made to St. John Lutheran Church, 2650 Plainfield Road, Joliet, IL 60435. Arrangements entrusted to the Fred C. Dames Funeral Home, 1201 W. Route 6, Morris, IL. For more information, please call 815-942-5040 or visit her Memorial Tribute at www.fredcdames.com.