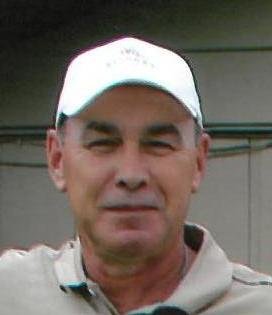 Obituary of John Rivett
John Rivett
Died on July 20, 2017 losing his battle with cholangio carcinoma. John had been battling this unrelenting cancer since Easter. He came to accept the greens are better in heaven than anywhere else. John now has a standing tee time with his son, Matt at Fairways of Glory.
John was born November 23, 1949 to Dorthey and John A. Rivett. He grew up in Seneca, graduating from Seneca High School in 1967. After a few years of working at Caterpillar, John enlisted in the U.S. Navy serving four years, three of which were in Puerto Rico. It was at this time that he developed his talent and love for playing fast-pitch softball. John closely bonded with his Navy brothers and always enjoyed their annual reunions. After the Navy, John worked as an electrician for 38 years at DuPont/Reichhold/Forbo.
Family was very important to John. On December 21, 1974, he married Fran who was his dearest and best friend. Together they looked forward to weekly family dinners when he enjoyed the company of his extended family. John had so many sisters that it was hard for him to get a word in, but he was a loyal and loving brother. To this day, his mother calls him Johnny hinting at his kind and loving nature.
In retirement John worked on lowering his golf handicap and expanding his list of golf buddies. In order to help support his golf habit, he mowed the fairways at Morris Country Club which is where he hit his golf ball most of the time. During the winter off-season, John traveled with Fran south; frequently to Arizona where they could enjoy each other and he could enjoy some more golf.
A "Celebration of Life" will be held Tuesday July 25, 2017, 1:00 p.m. at the Morris Country Club with close friend, Deacon Larry Antonsen officiating. At that time anyone is welcome to share a memory of John. At the conclusion of the service, visiting will continue until 5 p.m. No one appreciated a good time more than John, so he wanted people to come together to celebrate the joys of his life.
John is survived by his wife, Fran; daughter, Melissa; his mother, Dorthey; sisters, Lynda Howard, Cheryl (Bill) Warning, Deanne Ebelherr, Merri (Barry) Cobler; brother, Terry; sister-in-law, Marilyn (Bob) Heuerman; and several aunts and uncles, and numerous nieces and nephews.
John is preceded in death by his son, Matthew; his father, John A. Rivett; and his sister, Dianne Rivett; his mother-in-law, Jo Zacha; his father-in-law, Gene Zacha; and brother-in-law, Gene Zacha.
In lieu of flowers, memorials may be given to Joliet Area Community Hospice (who provided John tremendous care), Matt Rivett Memorial Golf Scholarship or Morris Hospital Foundation.
Fred C Dames Funeral Home entrusted with his arrangements. For more information please call (815) 942-5040 or visit his Memorial Tribute at www.fredcdames.com