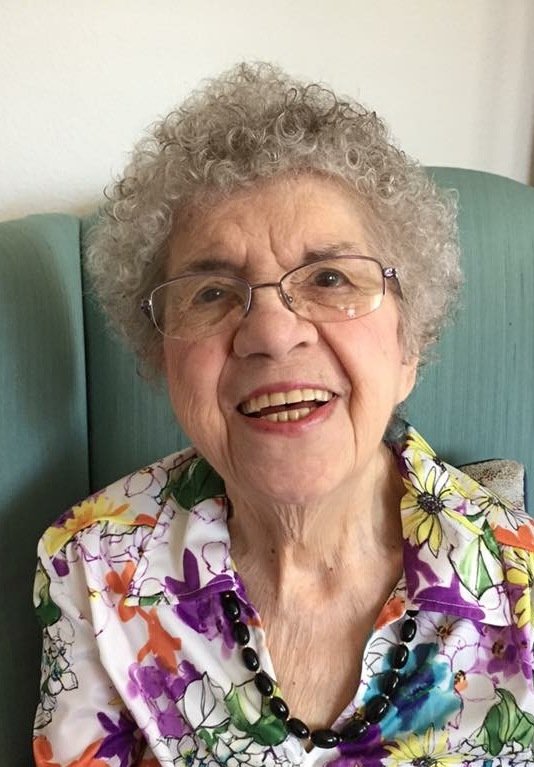 Obituary of Doris Simek
Doris "Granny" Simek
(nee Gundersen)
Doris "Granny" Simek (nee Gundersen), 94, of Joliet, IL, passed away peacefully with her family at her side on Thursday September 7, 2017.
Granny was born on September 15, 1922 in Chicago, to Anna and Ragnvald Gundersen. She graduated from Steinmetz High School in 1940. According to her, "I went to school stupid, and I came out the same way!" She married her husband, Clarence, in 1953, after he chased her for many years (or so she says!)
Granny enjoyed watching Andy Griffith, Wheel of Fortune, and The Price is Right. She took her coffee black, preferably with donut holes or a piece of pie. She also liked baking her famous Norwegian cookies at Christmas, her "choker" waffles, green cake, and "cheat cookies". Some of Granny's favorite hobbies included latch hooking, Thomas Kinkade puzzles, and playing Scrabble with her grandkids (who always cheated anyways). She was an avid music lover, and liked to sing along to the Mills Brothers, Christmas carols, and the soundtracks of her favorite movies.
Granny loved spending summers in Whitehall, Michigan, a love she passed to her family. One of her favorite time wasters was junkin' at Pitkins for good deals. In her later years, she became an internet sensation with the help of the other two musketeers, sharing goofy videos and witty responses such as "Hut-tah-tu!", "Aw, besh", "bye fam!", "Tough toenails….TT!", "it's lit!", "yes ma'am", and "it's not funny…it's serious!". She enjoyed interacting with all her internet fans she never met.
She was preceded in death by her parents, Anna and Ragnvald; her husband, Clarence; and her siblings, Myrtle, Fran, Ray, Wally, and Earl.
Doris leaves behind her younger brother, Herb "Hairbo" Gundersen; her two sons, Alan and Thom; cherished daughter-in-law, Linda; grandsons, Clint and Tyler and (favorite) granddaughter, Anna. She was a loving aunt to many nieces and nephews.
Special thanks to caretaker, Phyllis Dukes, and the staff of both Spring Creek Rehabilitation Center and Joliet Area Community Hospice.
Funeral services for Doris "Granny" Simek will be Monday, September 11, 2017 at 7:00 p.m. at the Fred C. Dames Funeral Home, 3200 Black at Essington Rds., Joliet, IL. As it was Doris' request, cremation rites will be accorded following services. In lieu of flowers, donations can be made to Joliet Area Community Hospice. Visitation is Monday, September 11, 2017 from 3:00 p.m. until time of services at 7:00 p.m. For more information, please call 815-741-5500 or visit her Memorial Tribute at www.fredcdames.com