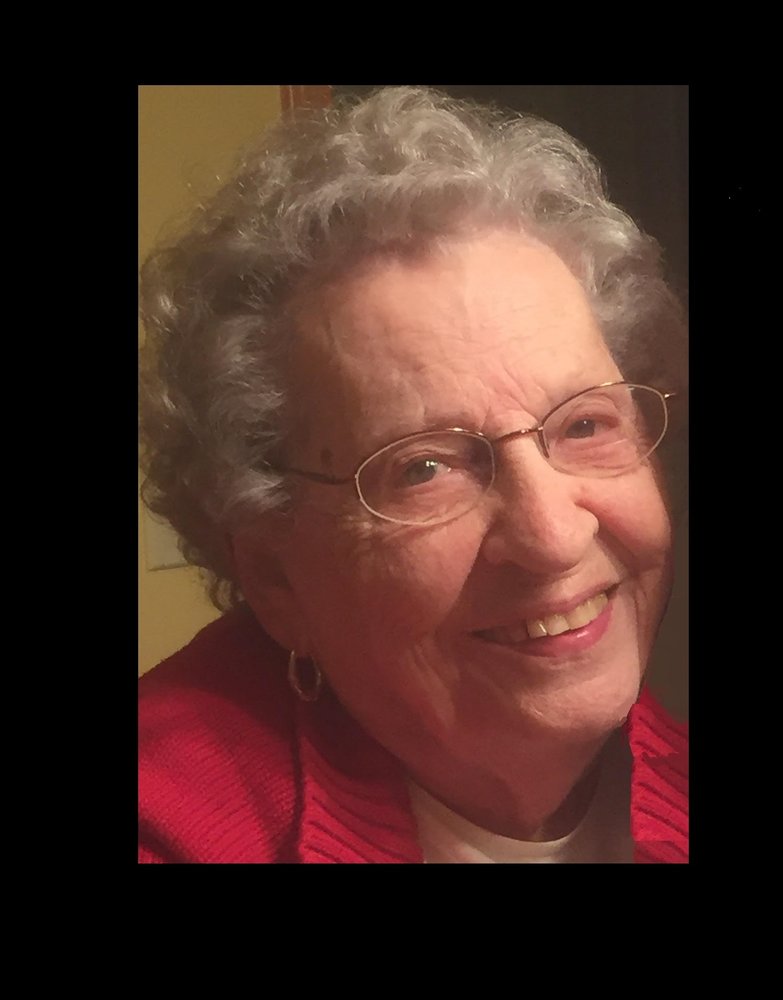 Obituary of Lucille Phelan
Lucille Phelan
Lucille Phelan, age 96, passed away on September 22, 2017 at her home in Kinsman, IL. She was the daughter of the late Laurence and Frances (Wilhelmi) Miller. She was born at home in Homer Township and grew up on a farm there with her nine sisters and brothers. She was a graduate of Joliet Township High School. Her first job was a cashier at the A&P grocery store on Cass Street in Joliet. Later, she was employed by the Public Service Electric Company as a cashier. She met Hugh E. Phelan in 1949, and they were married January 13, 1951 at St. Mary Carmelite Catholic Church in Joliet. Together they raised twelve children, Anita Robinson (Earl d.), Seymour, IN, Janet Phelan (Bill Geittmann), Monee, IL, Jim Phelan (Sudie), Waller, TX, Jean Condon (Ed), Ransom, IL, Kevin Phelan, Kinsman, IL, Peggy Jordan (Tom), Naperville, IL, Tim Phelan (Karen), Waller, TX, Mary Pfeifer (Don), Gardner, IL, Jane Hinchman (Al), Geneva, IL, Patty Mueller (Ron), St. Charles, IL, Betty Miller (Rob), Ottawa, IL.
She was preceded in death by her husband, Hugh (2000), her daughter Joan (1998), twins , Sarah Jane and William Laurence, granddaughter, Mary Phelan and six sisters and brothers, Harold (Pearl) Miller, Don Miller, Hazel (Joe) Partak, Virginia (Ray) Paul, Kathleen (Norman) Glenn and Mitzi (Jack) McGuire, all of Joliet.
She is survived by her brother, Jim (Mickey d.) Miller, Joliet, IL; her two sisters, Ruth Ann
(Bob d.) Campbell, Carpentersville, IL and Lois (Leo d.) Bernhard, Elwood, IL; numerous nieces and nephews. She had 42 grandchildren and 46 great grandchildren.
Lucille was a member of Sacred Heart Catholic Church in Kinsman. She was an extremely good cook, a talented seamstress, a crossword puzzle enthusiast and enjoyed Scrabble and jigsaw puzzles. Her children and grandchildren were the center of her universe.
Funeral services for Lucille Phelan will be Thursday, September 28, 2017 at Sacred Heart Catholic Church, 219 Emmett St., Kinsman, IL 60437 where a Mass of Christian Burial will be celebrated at 10:00 a.m. Interment will be at St. Patrick Cemetery, Ransom, IL. Memorials in her name to the Mercy Home for Boys and Girls would be appreciated. Visitation will be on Wednesday from 4-8 p.m. at the Fred Dames Funeral Home, 1201 W. Route 6 at Deerpath Drive, Morris, IL. 60450. For information (815) 942-5040 or you may visit her Memorial Tribute at www.fredcdames.com