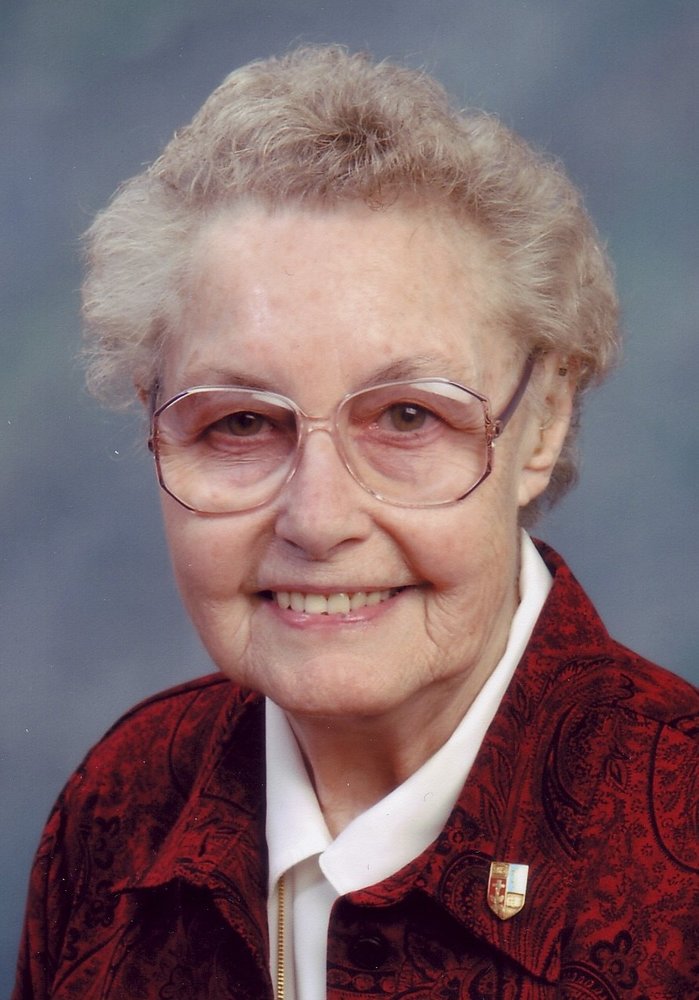 Obituary of Sr. Loretta Vetter
Sister Loretta Vetter, OSF (1927 – 2017) died at Our Lady of Angels Retirement Home, Joliet, Illinois, on October 9, 2017. Sister Loretta was the eldest of six children born to George and Alvina (Compas) Vetter in Benton, Missouri. She was preceded in death by her parents, her brother, Vernon, and her sister, Georgianne Vetter, her sister-in-law, Neva Jean Vetter, and her brother-in-law, Thomas Drury. She is survived by her brother, Alfred of Benton, Missouri, and her sisters, Rita Drury of Scott City, Missouri, and Mary Frances (Robert) Todt of Oran, Missouri. Sister Loretta was a member of the Sisters of St. Francis of Mary Immaculate (Joliet) for 71 years.

Before entering religious life, Sister Loretta was a member of St. Denis Parish in Benton, Missouri, and attended the Parish School. She graduated from St. Francis Academy (now Joliet Catholic Academy) and earned a Bachelor of Arts degree from the College of St. Francis (University of St. Francis) Joliet, Illinois. She received a Master of Education from DePaul University, Chicago, Illinois, and a Master of Arts in Administration from the University of Michigan, School of Gerontology in Ann Arbor, Michigan.
Sister Loretta ministered in the field of education from 1949 until 1970 teaching and/or serving as principal. She taught at St. John the Baptist, St. Paul and Holy Family in Joliet. She also taught in Chicago and other schools throughout Illinois. In 1970, with many of the sisters at an age where they could no longer teach in school, Sister Loretta was asked to consider assuming the newly created position of Director of Retirement for the Congregation. In 1983 she returned to Missouri to minister in the Diocese of Springfield-Cape Girardeau as a member of the staff at the House of Vocation Discernment in Cape Girardeau, Missouri, counseling young women who were interested in religious life. After obtaining her certification as a Chaplain from the Association of Catholic Chaplains, Sister Loretta served as Pastoral Associate in West Plains and Thayer, Missouri, and later as a chaplain at St. John Hospital in Springfield, Illinois. In 1999 she returned to Joliet and ministered at the Motherhouse, St. Patrick Parish and Our Lady of Angels Retirement Home.
The wake for Sister Loretta will be at Our Lady of Angels Retirement Home, 1201 Wyoming Avenue, Joliet, IL, (Wyoming and Rt. 30) on Monday, October 16, 2017 from 2:00 – 6:45 p.m., with a Prayer Service at 4:45 p.m. and Mass of Christian Burial at 7:00 p.m. The Funeral Procession will leave from Our Lady of Angels on Tuesday morning, October 17, 2017, at 9:00 a.m. The Interment will take place at Resurrection Cemetery in Romeoville, IL.
Memorials may be made to the Sisters of St. Francis of Mary Immaculate, 1433 Essington Road, Joliet, IL 60435.