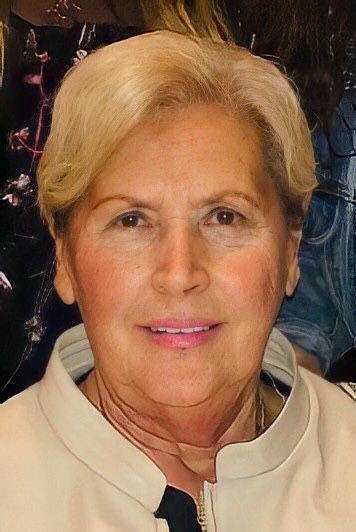 Obituary of Phyllis A. Dillon
Born: March 11, 1938
Died: November 23, 2021
Phyllis A. Dillon (nee Zullo) passed away peacefully on Tuesday, November 23, 2021. She was preceded in death by her mother and father, Margaret and Peter Zullo, her husband, William Dillon and sisters, Constance Weese, Patty Parker (Bill), and brother, Gene Zullo (Marge).
Surviving are her sons, William and Michael Dillon, and daughter, Victoria (Chris) Totani. Also surviving are her two grandchildren, her pride and joys, Gianna and William Totani, her sister, Margaret (Dale) Ziegler, and numerous nieces & nephews.
Phyllis grew up on South Chicago Street. She attended Eliza Kelly School, St. Joseph grade school, and worked and paid her way through St. Francis Academy, class of 1956. She was a hard worker, juggling more than one job at a time. She met her future husband in high school while working at the Chicken House near St. Francis Academy. Later, she worked at Illinois Bell and EJ&E. After Bill graduated from college, they got married, purchased the Chicken House and Walt's Confectionary businesses, and a year later, started their family. Having the title of "Mom" was her most rewarding job of all.
The 1970's were her wonder years with hosting daily backyard swimming for the entire Glenwood Manor neighborhood, birthday parties, dance recitals, little league games, and Jets swim meets. She served as den mom to her son's Boy Scout's group, taught CCD classes at St. Paul's, and helped with Art class at Thomas Jefferson School. She was artistic and crafty, sewing every dance recital and Halloween costume. She enjoyed painting and used her love of swimming to teach lessons to the neighborhood kids as well as the Guardian Angel special needs children. She enjoyed synchronized swimming and performing in the Kiwanis shows every year as well.
She was very involved with Joliet Catholic High School and St. Francis Academy. She served as Vice President and President of the Joliet Catholic Mothers Club (1975-1979) and Vice President and President of the St. Francis Academy Alumni Association (1986-1988). She worked on many Jubilate committees during that time.
After the sudden loss of her husband in 1977 at the age of 39, she had an awakening of strength and determination to raise three kids ages 16,11, and 7. In 1988 at age of 50, she opened Travel Professionals of Joliet and a year later Walt's Ice Cream. She worked tirelessly her entire life, leaving the travel agency at 5 pm, six days a week, just to spend the nights working at Walt's with her sons.
In 2003, she underwent many surgeries from a carotid artery, to a triple-bypass, to a blood clot that landed her in and out of the hospital. The birth of her first grandchild, Gianna gave her a second chance at life. She and Gianna were inseparable. She babysat Gianna five days a week until she started school. She had a tremendous impact on Gianna's life, teaching her all of the Catholic prayers, how to swim and play the piano. She never missed a dance or piano recital. The three amigos were daily lunch buddies, theater goers, and swam tirelessly in the summer. She enjoyed spoiling her only grandchild.
As she aged and Gianna grew up, she was blessed a second time with the arrival of her only grandson, William in 2017. She and Will bonded immediately. Will quickly turned out to be her "water baby," and they spent every summer day swimming together, enjoying every second of it. Will's smile, contagious laugh, and energy kept her going. Will loved his grandma so much that he would run off the tee-ball field just to sit with her in the car. Will always demanded that Grandma sit in the back seat of the car next to him- no one else-no exceptions. It was an amazing display of mutual, unconditional love for each other. She loved her grandbabies, Gianna and William, beyond words and just mentioning their names would put a smile on her face.
She was the most active person we knew up until a year ago. She never sat home and was always on the go. She lived life to the fullest and loved to travel, seeing most of the USA and visiting Europe on multiple occasions. She enjoyed playing the slot machines and talking politics. She loved playing the piano and organ, especially around the holidays. She had impeccable style and taste; she was a beautiful, well-dressed woman with the best tan around, looking 20 years younger. She was also the best cook and took great pride in her Thanksgiving turkey meal. Her delicious gravy can never be duplicated, and she always set a beautiful table fit for royalty.
She was also a devout Catholic, never missing a Sunday mass up until a few years ago. She was involved with most of the local clubs, including The Catholic Women's club, Visitation and Aid Society and Paulites among others.
She cared about her family more than anything. She spent every birthday and holiday with her entire family, no exceptions. She never spent a single minute in a care facility or nursing home. She saw each of her kids daily and always had a dinner date with one of them. She was happy and enjoyed her last years, laughing more than any other time in her life. We love her so much and will miss her deeply.
Thanks to all the doctors, nurses, and assistants who took care of our Mom over the past 18 years. Mom had an incredibly high quality of life until her last steps, and your effort in providing that is greatly appreciated.
Funeral services for Phyllis Dillon will be held Tuesday November 30, 2021, 10:15 a.m. at the Fred C. Dames Funeral Home to St. Paul the Apostle Catholic Church where a Mass of Christian Burial will be celebrated at 11:00 a.m. Entombment will follow at Woodlawn Memorial Park Mausoleum.
Visitation will be Monday evening November 29, 2021 from 6:00-8:00 p.m. and Tuesday morning from 9:30 a.m. until services begin at the funeral home.
For more information please call (815) 741-5500 or visit her Memorial Tribute at www.fredcdames.com where you can share a favorite memory or leave a condolence.