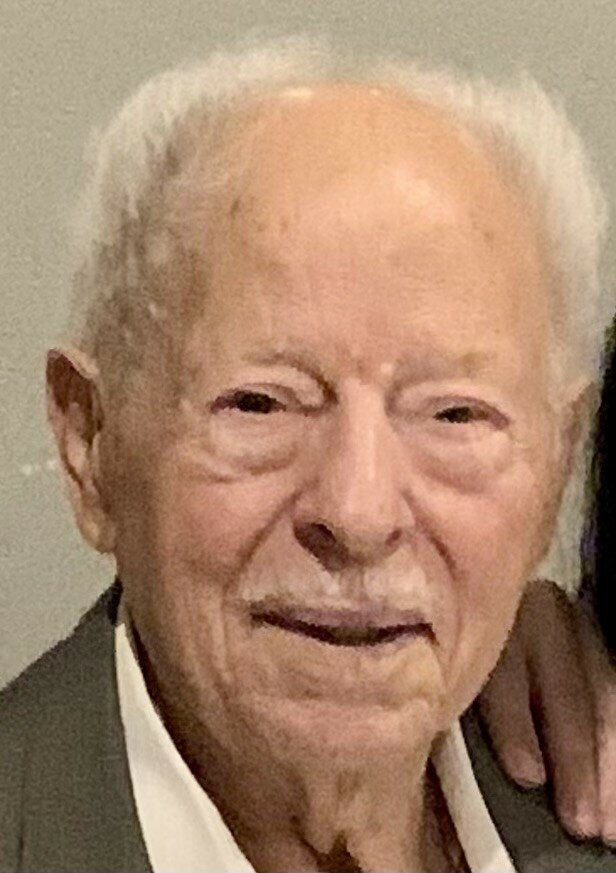 Obituary of George Elias Hondros
George Elias Hondros, age 90, of Joliet, well known restaurateur and businessman, passed away unexpectedly, Tuesday, March 1, 2022 at Amita Health St. Joseph Medical Center Joliet.
Beloved husband of Katina, nee Tsipianitis; loving brother of William (Joanne), Dimitri (Toni), and Angelo (Francis); devoted father to Maria, Sophia (Jeff) Reiter, Louis (Sally); adored grandfather to Melina and Niko Reiter; cherished uncle and cousin to a wide circle of family members.
George lived the American Dream. Born March 26, 1931, to Elias and Maria, he grew up in Karyes (Arahova), a small village in the Peloponnese peninsula in the southern part of Greece. Seeking better economic opportunities, he boarded a ship in 1951, at the age of 20, heading to the United States.
Settling with family in Chester, South Carolina, George worked first as a farm hand, then at his uncle's billiard hall. Recognizing his success in the service industry, his cousins urged him to try his luck in Chicago, which promised to be more lucrative.
The Korean War intervened, and George served for two years. Following his service, he made Chicago his home, where he worked waiting tables at the Sherman House and Imperial House.
In 1957, he returned to Greece to find a bride. In Arahova, he met Katina. Theirs was a whirlwind romance. After a two-month courtship, they married, and together returned to the U.S. Over the next two years, George brought his brothers and parents to Chicago as well, successfully transplanting the entire family.
The Hondros family prospered, honing their hospitality skills and translating them into their ownership of Joliet's Lindos and Peter Piper restaurants. George's skill in the kitchen, as well as his shrewd ability to secure the finest ingredients from purveyors across the city, underpinned the businesses' success.
In 1984, recognizing an opportunity, George joined a small group and opened the Greek Islands in Lombard. Again, George's finesse as a "behind the scenes" impresario proved integral to its success.
Outside of work, George saw potential everywhere. His inclination to collect tools and materials of all sorts resulted in a basement filled to overflowing and dubbed by his family "George's General Store." In his last few years, he tinkered there and built bird houses.
In addition to loving his family, George loved the feel of the sun on his face and listening to Greek music. He was the original king of the "perfect bite," making sure he'd left the right amount of sautéed onions and mushrooms to accompany his last bite of steak.
His greatest joy was in his role as papouli to his grandchildren Melina and Niko. He was forever asking them how school was going, and whatever their answer, his response never varied. "Keep working hard. Your education is something no one can take away from you." These words, as well as his spirit and kindness, will be cherished in the hearts of his family forever.
Visitation for George Hondros will be held Friday, March 4, 2022 from 4:00 to 8:00 p.m., and Saturday morning, March 5, 2022 from 9:30 to 10:45 a.m., at the Fred C. Dames Funeral Home, 3200 Black Road, Joliet, IL 60431, where Trisagion services will be conducted at 6:00 p.m., Friday.
Funeral services will be Saturday, March 5, 2022 at 10:45 a.m., from the funeral home to All Saints Greek Orthodox Church, 102 N. Broadway, Joliet, IL 60435 where services will be conducted at 11:30 a.m. Interment will follow in Woodlawn Memorial Park.
For more information, please call (815) 741-5500 or visit his Memorial Tribute at www.fredcdames.com
Share Your Memory of
George
Proudly Serving the Communities of Joliet, Morris, Shorewood, Plainfield, New Lenox, Manhattan,
Rockdale, Wilmington, Braidwood, Channahon, Minooka, Coal City, Seneca and Ottawa, Illinois. Serving
Will, Grundy, and Kendall Counties and as an approved airline transportation specialist nationwide of
global services.