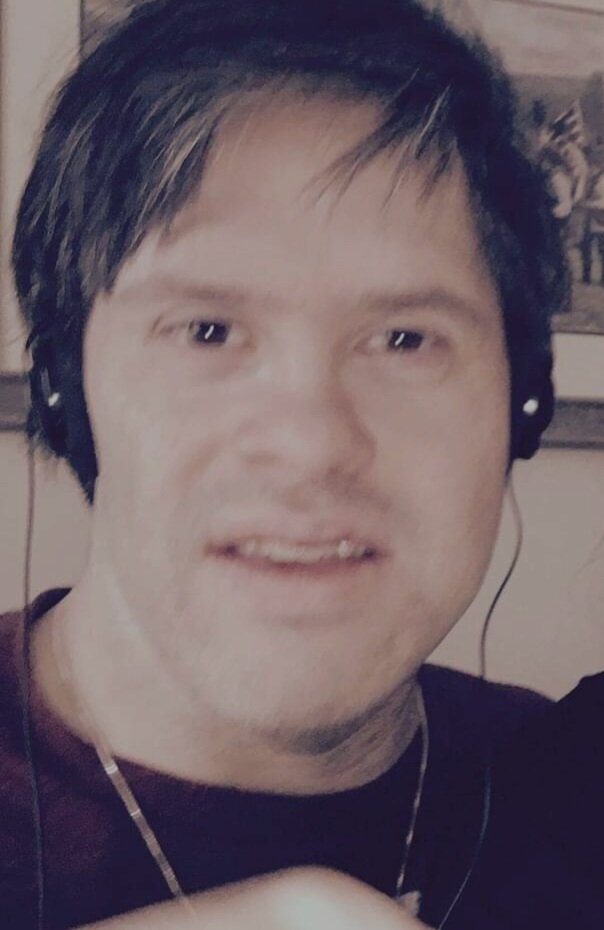 Obituary of James T. Cook
If we listen very closely, we can hear the rustle of Angel wings and we know you are with us and we look up and say "Jimmy, oh precious, precious Jimmy I know that is You"
Now our Heavenly Father has you in his keeping and we have you in our hearts forever.
Saturday April 16th 2022, our beloved Jimmy, surrounded by Family, returned to our Heavenly Father.
Born September 17th 1974, to Mary Alice (Dominguez) Cook and Joseph Nelson Cook, Sr., Jimmy lived all his life in Channahon, attended Channahon grade school, Marycrest grade school and received an honorary diploma from Minooka Community High School. Jimmy was also a Special Olympics Athlete.
Jimmy's greatest joy was spending time with his family, especially his sister, who he would call every night to say he loved her, "sweet dreams" and "good night". It was apparent to all the great love Jimmy and his sister had for each other.
Jimmy loved everything 80's, and his choice of music and favorite sitcoms reflected the era. Jimmy had an extensive music collection and was rarely seen not wearing headphones and carrying a portable CD Player. Jimmy would attentively and continuously watch the MTV top 20 countdown day after day. He missed his calling as a name that tune champion, as he could name a song, the artist and what number it was on the countdown. In 3 notes or less. Over the years James wore out 100's of CD players and headphones as well as 1000's of AA batteries.
Jimmy also owned his own library of DVD boxsets which included complete seasons of his favorite 80's sitcoms including his favorites What's Happening. Diff'rent Strokes, Good Times, and several others.
Jimmy's favorite meal was a Big Mac and Fries with a Dr Pepper of course.
He loved Christmas and his birthdays as did his family. It was a joy to see his face light up with excitement when he received his presents that hewould so meticulously remove 1 inch squares each of wrapping separately to savor the enjoyment, anticipation and his family's presence.
Left to cherish his memory is Mary his devoted mother, loving caregiver, cheerleader, and advocate for his rights as a child/adult with Down Syndrome. Each day and night for the past 47 years she passionately cared for all of James' needs despite her own physical challenges. Mom was Jimmy's caregiver and it was a lifelong caring journey of Love.
Jimmy is survived by his older brother, Joseph N. Cook, Jr,(Laurie Pillion) whom Jimmy referred to as his "Baby Brother" and would never tire of performing a lengthy "secret brother society" handshake.
Also survived by his dedicated sister, Gloria L. Cook-Richardson (Scott Richardson); aka "Sissy", "My Darling", "Precious", "Best Friend Forever". Not only was Gloria his sister but they shared a friendship without bounds for the past 47 years. Jimmy treasured spending time with his sister as much as she treasured the time spent with him. Gloria was selfless when it came to the needs of her brother and without hesitation cared for all of James' needs.
James was a loving Uncle to Alexander James Klossing (James' namesake), who after fulfilling his requests for a Dr. Pepper after bedtime was known as "Batman". He would assist with Jimmy's care no matter how many times a day or the time of day 4am or 11pm, and would help with gentleness, a full heart and a smile on his face.
Preceding him in death is his loving and proud father, Joseph N. Cook,Sr, who cherished Jimmy with all his heart. Dad would refer to Jimmy as Buddha (this is where Jimmy learned the skill of having a nickname for everyone). When James was hospitalized as a child, Dad would go to the hospital after work to relieve Mom and stay the night only to go to work when relieved the following morning. Dad always reserved time to help Jimmy and taught him how to walk. In later years, each morning Dad would announce. "I'm going in to see Buddha to hear what great wisdom he has for me today" then Dad would take care of Jimmy each morning by taking all his vitals and recording them up until days of his own passing (the last entry Dad made of Jimmy's vitals is cherished by his family, as it is a reminder of the great devotion he had for his son).
James is also preceded in death by his beautiful niece, Jessica M. Klossing, aka "Sweetie" who was always anxious to receive hugs and kisses from Uncle Jimmy. Jessica was his entertainment director, games host, musical director and TV watching partner. She was also his personal photographer taking an infinite amount of selfies while providing props and wardrobe. Often Jessica would double as his attorney, and she would argue his case when his 4th Dr. Pepper of the day was denied.
Additionally preceded by his infant nephew, Benjamin Nephi Cook- Klossing who he will meet for the first time upon his arrival in Heaven.
The Family would like to acknowledge Laurie and Scott. Laurie was Jimmy's personal barber and always made herself available without question to be there when a need arose. Jimmy knew Laurie was his failsafe when he wanted a Big Mac and Fries. Scott never complained of his wife's absence from home during the long hours, days, weeks or even months to help with the care of her brother over the years.
Little did he know he gave us, the greatest of gifts one can give to others, Gifts that are everlasting. Jimmy taught three generations the true meaning of love, charity, acceptance, compassion, patience, optimism, resiliency, courage and faith.
An Angel is defined as a spiritual being, believed to act as an attendant, agent, or messenger of God. We always knew the definition of an angel because we were blessed by God to have one in our lives and now our memories forever. Jimmy was an angel, our angel. You served the Lord and your mission was complete and it was time for you to return home. We will forever miss you, your sweet spirit, your smile that lit up a room, gentle kisses and genuine hugs.
Jimmy you made our lives brighter, our lives wonderful and filled with love. You taught us to joyfully embrace life no matter our lot. You gave us so much, and we can never forget what we learned from you.
We love you Jimmy rest in paradise as we anxiously await to be with you again.
Graveside services for James Tyler Cook will be held Saturday, April 23, 2022, 12 Noon at Willard Grove Cemetery in Channahon, IL.
For more information please call (815) 741-5500 or visit his Memorial Tribute at www.fredcdames.com where you can share a favorite memory or leave a condolence.
Inurnment
12:00 pm
Saturday, April 23, 2022
Willard Grove Cemetery
243001 South Ford Road
Channahon, Illinois, United States
Family and friends are asked to meet at the cemetery at 11:45 a.m.
Share Your Memory of
James
Proudly Serving the Communities of Joliet, Morris, Shorewood, Plainfield, New Lenox, Manhattan,
Rockdale, Wilmington, Braidwood, Channahon, Minooka, Coal City, Seneca and Ottawa, Illinois. Serving
Will, Grundy, and Kendall Counties and as an approved airline transportation specialist nationwide of
global services.