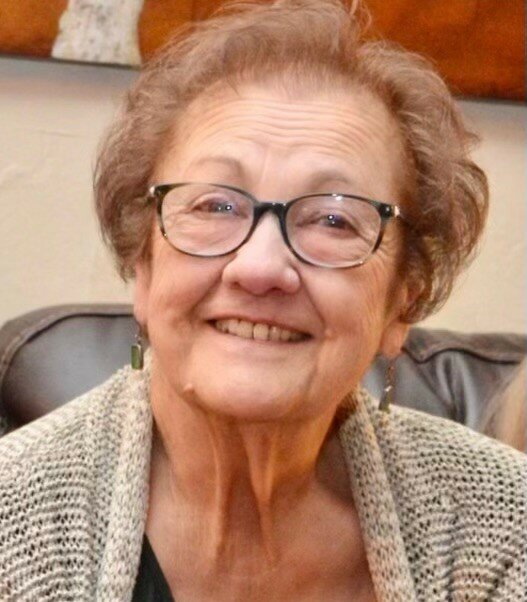 Obituary of Clariece Jean Henne
Clariece Jean (nee Vanderwagen) Henne, age 81, passed away peacefully at her home, surrounded by her family, on Sunday, June 19, 2022. She was born March 21, 1941, in Worth, Illinois, to the late John and Dorothy Vanderwagen, and grew up in both Worth and later Oak Lawn. Her family, for a time, owned a restaurant in Lake of the Ozarks, where she spent several joyful summers as a child. On November 29, 1969, Clariece married David W. Henne in Oak Lawn, Illinois, and the two remained happily married for the next 53 years. The couple eventually moved to Morris, Illinois where they raised their family and lived for almost fifty years.
Clariece (or "Maw" as she was affectionately called) was for decades the gravitational center of her large extended family, and as such, she devoted a great deal of time and energy to sharing her considerable warmth and wisdom to her three children and their spouses, her eight grandchildren, and her six great-grandchildren. Her various domiciles throughout the years (especially her beautiful Victorian farmhouse on Brisbin Road in Morris, Illinois--now owned and occupied by her youngest daughter, Lolly, and her husband, Todd) were the main gathering places for family and friends for most of the major holidays throughout the years as well as innumerable informal gatherings. At all such events, both family children and family dogs were likely to be found running about with varying degrees of obedience! When not directing her attention to the needs of her family, however, Clariece was rarely found idle. She was, for instance, a great lover of books and was known to her family as an especially voracious reader. She was drawn most powerfully to contemporary fiction, but her personal library varied widely, including books of poetry, natural history, art, biography, memoirs, and American history/politics. Her love for reading, great as it was, was unquestionably surpassed by her passion for making art.
Clariece was a very talented and prolific craftsperson. She had some formal training in this area. As a teenager she had attended a high school summer program at the Art Institute of Chicago and later, as an adult, she earned an associate degree in landscape design at Joliet Junior College. Over the decades she created (and occasionally sold commercially) watercolor and oil paintings, drawings, clay sculptures, various home decorations, knitted sweaters and clothing, quilts, and a myriad of other craft objects. For years she was a regular on the art and craft show circuit, and she even shared her knowledge of painting by teaching privately out of her home for many years. This latter activity, in fact, was just one of several of her forays into entrepreneurial enterprise.
Clariece and her friend and business partner, Sue Harris, opened a shop, Green With Ivy, on Washington Street in Morris. This business, a florist and gift shop (2004-2014), was a manifestation of Clariece's other great lifelong love: plants! Clariece was exceptionally knowledgeable about the botanical world. She could readily identify and name (both genus species as well as common names) of a wide variety of annuals, perennials, and trees. She was, additionally, an artistic arranger of flowers. Her love of plants was bequeathed to her daughters, all of whom would become avid gardeners themselves. In fact, in 1994, Clariece helped her oldest daughter, Connie, found That Perennial Place in Connie's backyard. That business grew remarkably from its humble origins and is now a major lawn and garden center run by Connie's son, DJ, and his wife, Lexi. In the same vein, Connie's other son, David, and his wife, Stephanie, own and run a retail nursery, Garden's Gate, in Ottawa.
Clariece is survived by her loving husband, David W. Henne; her daughters, Donalee J. (Diccon) Ong and Laura M. (Todd) Lyle; her eight grandchildren, D.J. (Lexi) Stacy, David (Stephanie) Stacy, Cassie (Josh) Blades, Simon Ong, Elliot Ong, Henry Ong, John (Sarah) Lyle, and Joe (Dani) Lyle; six great-grandchildren, Addison, Dayne, Mikenna, Rylen, Jillian, and Charlie; her sister, Rita McDowell; numerous nieces and nephews; and many, many dear friends.
She is preceded in death by her daughter, Connie Stacy; and her parents.
The family would like to extend their deepest gratitude to Dr. Peter Roumeliotis, Dr. Syed Ahmed, Dr. Michael Kryza, Diane Zuelke, N.P., and all the other health care professionals she encountered for the excellent and loving care they provided Clariece as she battled her illness.
As it was her final wish, cremation rites for Clariece have been accorded. The family is planning a Celebration of Life Open House on Saturday, August 6, 2022, from 1-4 pm, at the home of Todd and Lolly Lyle (10565 Brisbin Road, Morris, IL).
Memorials in her name can be made to One Tree Planted (https://onetreeplanted.org/products/plant-trees). Arrangements are entrusted to Fred C. Dames Funeral Home, Morris. For more information, please call 815-942-5040 or to leave an online condolence, visit her Memorial Tribute page at www.fredcdames.com.
A Celebration of Life
1:00 pm - 4:00 pm
Saturday, August 6, 2022
At the home of Todd and Lolly Lyle
10565 Brisbin Road
Morris, Illinois, United States
Memorial Contributions
Memorials in her name can be made to One Tree Planted (https://onetreeplanted.org/products/plant-trees).