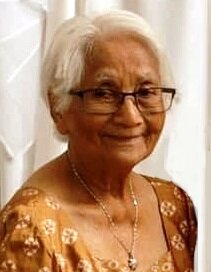 Obituary of Soeun Khiev Hing
Soeun Khiev Hing, age 88, passed away peacefully in her sleep at her residence on June 23, 2022. Soeun was born in Cambodia, but immigrated to the United States with her family in 1975.
Soeun was kind, good spirited and full of life. She absolutely loved her friends and family. She was passionate about cooking and her family will remember her for her delicious meals, as well as her good humor. She lived for her children and her energy came from spending time with her grandchildren and great grandchildren. This brought her such joy and happiness in her final years.
Soeun is survived by her children, Vandan Hing, Chanly (Thul) Be, Monita (Orn) Yun, Vandeth (Mony) Hing, Helene (Jorge) Rosado, and Vanda (Sothy) Hing; her grandchildren, Sreydan (Tam), Linnda, Juliette, Sovira, Lakinna (Andrew), Dean (Thea), Merwin (Laura), Michele (Barney), Sam (Khemara), Jessica and Corey, Steph (Billy), Justin, Brandon, and Tyler; and 16 great grandchildren. She is also survived by her only nephew, Phal (Marilyn) Ek and family.
She was preceded in death by her husband, Vuth Hing.
Funeral services for Soeun Khiev Hing will be held on Tuesday, June 28, 2022 at the Fred C. Dames Funeral Home in Joliet where family will receive friends and relatives from 9:00 a.m. until services at 10:30 a.m. Interment will follow at Woodlawn Memorial Park.
Please call 815-741-5500 for more information or visit her memorial Tribute page and leave an online condolence at www.fredcdames.com.
Visitation
9:00 am - 10:30 am
Tuesday, June 28, 2022
Fred C. Dames Funeral Homes - Joliet
3200 Black at Essington Roads
Joliet, Illinois, United States
(815) 741-5500
Funeral Service
10:30 am
Tuesday, June 28, 2022
Fred C. Dames Funeral Homes - Joliet
3200 Black at Essington Roads
Joliet, Illinois, United States
(815) 741-5500
Interment
Woodlawn Memorial Park
23060 W. Jefferson Street
Joliet, Illinois, United States