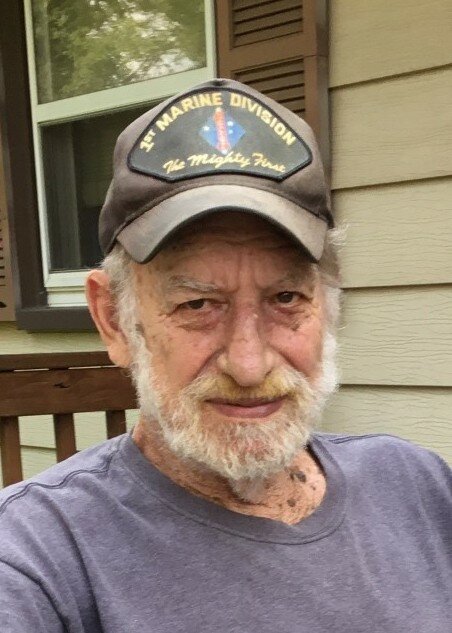 Obituary of William Houston Richardson
William Houston Richardson, Jr. (a.k.a. Papa) passed away peacefully at home on August 6, 2022. His wife Irene (a.k.a. Honey) was by his side, as always, and wiped away a final tear from his eye as he left this world. We are certain he was crying because he didn't want to leave his beautiful bride of over 53 years.
Papa was born on September 4, 1946, in Fayetteville, Tennessee to his parents William Houston Richardson, Sr. and Margaret Mary Richardson (née Sarther), and he, along with his sisters, Margaret (Peggy), Ada Jean (Jean), Ellen Kathleen (Kay) and his brother, Michael (Mike), eventually moved back to the South Side of Chicago where they grew up. When he was 19, he joined the United States Marine Corps and ultimately served a 13-month tour from April of 1966 to May of 1967 in Vietnam as a field artillery cannoneer. He fought valiantly as a proud member of Charlie Company, 1st Battalion, 11th Marines, 1st Marine Division, in over 18 combat operations which included Operations Wyoming, Prairie, Osage, Mobile, Troy, Stone, and Union, to name a few. His experience in Vietnam defined who he was, and he remained proud of his identity as a Marine until his death.
It is extremely difficult to capture the essence of Papa in words – he was truly larger than life, often holding court with his friends and family telling jokes, making up hilarious nicknames for everyone, and creating songs that are infamous amongst his family and friends. In March of 2004, Papa and Honey relocated to Minooka to be near their daughter Tracy and her family as she and Barry Legg raised Alexandra (Alex), Samantha (Sammy), and Elizabeth (Lizzy). The stories of Papa with Alex, Sammy, and Lizzy include the oh-so-popular after-school beer, or the toy gun sniper attacks on Tracy and will continue to produce intense belly laughter amongst the family for many years to come. If we must choose one word to describe Papa, it is the word FUN. He made growing up fun. Tracy and Erica fondly remember boxing on Saturdays, playing and watching football on Sundays (both inside and outside of the house), the Bethlehem Express at Christmas, and him playing Whirly Bird and Evil Knievel with us. And Erica, often Papa's sidekick, will never forget creating and recording his original, extremely creative, and hilarious song, "Bottomless Cup of Coffee" in honor of his sisters Jean and Kay and their time working as waitresses.
Papa was preceded in death by his parents, William H. Richardson, Sr., and Margaret Mary Richardson, his half-brother Mike Raider, and his granddaughter, Avery Austin.
He is survived by his wife, Irene (née Czymmek), his daughters, Tracy Richardson and Erica Richardson Austin, their husbands, Barry Legg and Chad Austin, and his adoring granddaughters, Alex, Sammy, and Lizzy Legg and Schianne Austin.
Inurnment for William Richardson will take place on Monday, September 4, 2023, at 12:30 p.m. at Abraham Lincoln National Cemetery in Elwood, IL. Anyone wishing to attend, please be at the cemetery's information booth by 12:15 p.m.
In lieu of flowers, please consider donating in Bill's name to, Vietnam Memorial Fund, 3033 Wilson, Blvd. Arlington, VA 22201 or Lightways Hospice, 250 Water Stone Circle Joliet, IL 60431.
For information, please call (815) 942-5040 or visit his Memorial Tribute at www.fredcdames.ccom where you can share a favorite memory or leave a condolence.
Memorial Contributions
In lieu of flowers, please consider donating in Bill's name to, Vietnam Memorial Fund, 3033 Wilson, Blvd. Arlington, VA 22201 or Lightways Hospice, 250 Water Stone Circle Joliet, IL 60431.
Share Your Memory of
William
Proudly Serving the Communities of Joliet, Morris, Shorewood, Plainfield, New Lenox, Manhattan,
Rockdale, Wilmington, Braidwood, Channahon, Minooka, Coal City, Seneca and Ottawa, Illinois. Serving
Will, Grundy, and Kendall Counties and as an approved airline transportation specialist nationwide of
global services.