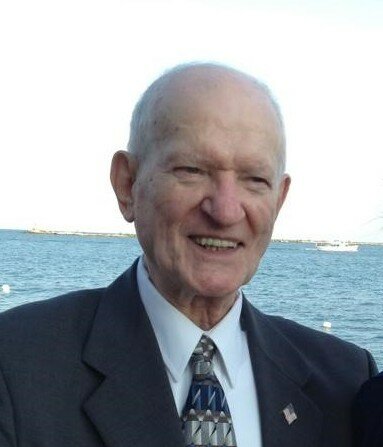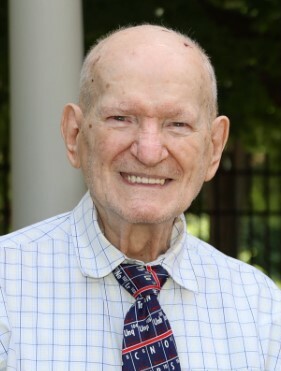 Obituary of Peter Sperelakis
Peter Sperelakis, 95, passed away peacefully, on Sept. 9, 2022, with family by his side at the Lightways Hospice in Joliet, IL. Peter lived his long and full life as an exemplary husband, father, grandfather, certified public accountant, seasoned traveler, life-long learner, and a vivid example of the sacrifice and hard work of The Greatest Generation.
Peter was born in Rockdale, IL on Oct. 29, 1926, to immigrant parents from Crete, Greece; Dimitri (James) and Aristea (Esther) Sperelakis (nee Kiagiadakis). He was preceded in death by his loving siblings, Anastasia (Tessie), Angelo, Merry, and Nicholas Sperelakis, PhD. Peter's parents had deep roots from the island of Crete, and his mother had moved to Smyrna (modern day Izmir), before being brutally expelled in 1917-18. After a brief stint in Athens, Peter's parents Dimitri and Aristea emigrated to the United States, settling in the Joliet area to start a family.
Peter and his siblings were children of the Great Depression, and Pete and his brother Nick, walked a long distance to the farm, worked for 50 cents per day, where they learned the value of hard work. They even gave their earnings to their mother to cover family expenses.
Peter attended Rockdale grade school, the foundation of his lifelong appreciation of proper grammar, and even in his final days, he fondly recalled all his grade school teachers, naming each of them in order! Peter excelled at Joliet Township High School, where he was a top student, proud member of the band (tuba player), and a star wrestler. World War II was raging during Peter's high school tenure, and during that time the military had performed routine aptitude tests on all potential recruits. Peter scored at the top of his class, and was admitted to the highly selective ASTP (Army Specialized Training Program) for academically gifted recruits, to meet the Army's wartime demand for soldiers with technical skills.
Peter enlisted in the Army in 1944, at 17 years of age. As part of the ASTP program, the Army assigned Peter to study electrical engineering at The University of Illinois and later at Penn State University. Peter was ultimately stationed at Fort Ord in California, and was slated to be deployed at any moment, with the 2nd Division of the US Army, for a planned ground invasion of Japan. Upon the surrender of Japan, which Peter attributed to potentially saving his own life, he was honorably discharged in Nov. 1946. He used his $300 Army 'muster payout' to purchase a motorcycle, which he drove across country, to his family in Illinois and to complete his education.
Peter earned two separate bachelor's degrees, both from the University of Illinois in Urbana- Champaign. Using his first degree in electrical engineering, he was employed by IBM in Des Moines, Iowa, and was working on the repair and maintenance of massive, early-day accounting machines. His fondness for numbers and precision led him down the path toward becoming an accountant. He began with accounting classes in night school at Drake University and quickly realized accounting was his career calling. He completed his accounting degree at the University of Illinois, under the GI Bill, and launched a highly successful 35-year career, culminating in a CPA (certified public accountant) certification.
Peter began his accounting career as an auditor for the Internal Revenue Service (IRS). He used that training to enter private practice, where together with his lifelong spouse, Roula, built a successful accounting practice in the Joliet area, where they prepared and filed over 600 individual annual tax returns, in addition to tax preparation for many local businesses. Peter was especially proud that in over 35 years of private practice, not a single one of his clients was ever audited, which he attributed to his early IRS training and employment.
Peter met and married the love of his life, Stavroula 'Roula' (nee Vezirakis), in Kolimbari on the island of Crete, Greece. After being married at a Monastery in Kolimbari, Peter and Roula settled in Joliet, and celebrated 63 years of marriage, four children and seven grandchildren. Peter and Roula were adventurous and well-travelled, having visited all 50 US states and several European countries, including Greece (several times), Poland (where their son, Steve and his family reside), the Netherlands, Paris, as well as the former homes of Mozart and Beethoven in Austria, feeding one of Peter's lifelong passions, classical music.
Upon Peter's retirement, he fueled his desire for lifelong learning, including daily visits to Barnes & Noble and/or the Shorewood Public Library – where Peter was a fixture. He particularly enjoyed expanding his knowledge of the sciences, and discovered his innate talent and passion for chemistry. He had spent the last decade of his life, laboriously writing, by hand, a technical chemistry journal.
Peter and Roula were lifelong members of the All Saints Greek Orthodox Church in Joliet, IL, where Peter served on the Parish Council, including a role as Treasurer, and was also an active member of AHEPA.
Peter is survived by his spouse, Stavroula, and four children; James 'Jim' (and wife Sonia) of West Newbury, MA; Antoinette 'Annette' (and husband Ken Caniglia) of Chicago; Steven 'Steve' (and wife Ivona) of Warsaw, Poland; and Areta 'Rita' Pontikes (and husband Michael) of Park Ridge, IL. Peter is also survived by seven grandchildren; Andrew Caniglia, Angela Sperelakis, Gabriel Caniglia, Alexander Sperelakis, Magdalena Pontikes, Sebastian Caniglia, and Stacey Pontikes. He also leaves behind many devoted nieces, nephews and other family.
Peter lived a full and beautiful life, a true family patriarch, and an example for all of us to follow. He left behind countless memories, which his family will forever treasure. May our Lord rest him in eternal peace.
Funeral services for Peter Sperelakis will be Wednesday, September 14, 2022 at 11:15 a.m. from the Fred C. Dames Funeral Home, 3200 Black at Essington Rds., Joliet to All Saints Greek Orthodox Church for services at 12:00 p.m. Entombment to follow at Woodlawn Memorial Park Mausoleum with full military honors conducted by the United States Army. In lieu of flowers, memorials in Peter's name can be made to All Saints Greek Orthodox Church or Lightways Hospice. Visitation Tuesday form 5-8 p.m. with Trisagion Services at 5:15 p.m. at the funeral home chapel. For more information, please call 815-741-5500 or to leave an online condolence, visit www.fredcdames.com.
Visitation
5:00 pm - 8:00 pm
Tuesday, September 13, 2022
Fred C. Dames Funeral Homes - Joliet
3200 Black at Essington Roads
Joliet, Illinois, United States
(815) 741-5500
Trisagion Services
5:15 pm
Tuesday, September 13, 2022
Fred C. Dames Funeral Homes - Joliet
3200 Black at Essington Roads
Joliet, Illinois, United States
(815) 741-5500
Funeral Service
12:00 pm
Wednesday, September 14, 2022
All Saints Greek Orthodox Church
102 N. Broadway
Joliet, Illinois, United States
Entombment
Woodlawn Memorial Park
23060 W. Jefferson Street
Joliet, Illinois, United States
Memorial Contributions
In lieu of flowers, memorials in Peter's name can be made to All Saints Greek Orthodox Church or Lightways Hospice.
Share Your Memory of
Peter
Proudly Serving the Communities of Joliet, Morris, Shorewood, Plainfield, New Lenox, Manhattan,
Rockdale, Wilmington, Braidwood, Channahon, Minooka, Coal City, Seneca and Ottawa, Illinois. Serving
Will, Grundy, and Kendall Counties and as an approved airline transportation specialist nationwide of
global services.