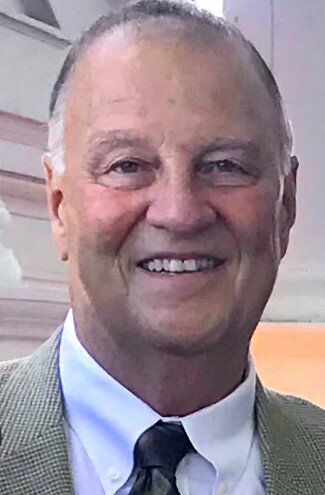 Obituary of John Joseph Futterer
John Joseph Futterer
1947-2023
John "Jack" Futterer passed away January 22, 2023 after a valiant battle with cancer and other illnesses.
The son of John "Jay" and Evelyn (Wiedman) Futterer, Jack was born on March 24, 1947 in Joliet. He grew up on Union Street, steps away from the famous Gerlach Barklow Calendar Co. He graduated from Washington Junior High then Joliet Township High School, where he was a proud member of the Class of 1965.
Jack was a U.S. Army veteran who bravely volunteered to serve his country. He was sent to Vietnam, where he received finance training and worked to make sure his fellow servicemen and their families received their war wages. He was often sent to the front lines to get signatures or deliver pay to soldiers in combat.
Prior to his service, he had started a job at Caterpillar and met his future wife, Nancy Frantini. Both waited for him while he was in Vietnam. Upon his discharge in 1970, he and Nancy were married and had two children. He also began a 42-year career with Caterpillar—first working as a welder, then earning increasing responsibilities and roles until he retired as Manager of Labor Relations and Personal Services. He received his bachelor's degree and MBA from Lewis University while working full-time and taking care of his family.
Jack was a gearhead from a young age and enjoyed everything from riding motorcycles, to racing stock cars at Joliet Memorial Stadium, to acquiring his first Chevy El Camino (with others to follow). In the early 70s, Jack traveled to Wisconsin and hauled home the shell of a 1936 Plymouth, which became a pet project that provided him with a lot of tinkering time over the years. He was legendary among the neighborhood children, who lined up with goggles to ride around the block in the ancient vehicle that had a rope for a seatbelt and no windshield. Jack eventually sold the unfinished car to an old friend, and later opted for a no-work-required, crimson, 2006 Chevy Corvette convertible, which he enjoyed driving until his death.
A longtime Yankees and Cubs fan, Jack loved baseball. He was a coach for his son's Troy Baseball teams and coached community youth teams in Aurora for many years. He also played baseball himself—well into his 50s—as a catcher in the Joliet Old Timer's League. After hanging up the catcher's mitt, he became a member of the Will County Old Timers' Association. Jack also had great musical taste. He willingly shared his prized vinyl collection with his young daughter when she received her very first record player, instilling in her a lifelong love for music.
Jack and Nancy were members of St. Anthony Parish in Joliet. They took time to travel in retirement, visiting Austria, France, Germany, Ireland, Italy, Poland and Switzerland on lovely pilgrimages where they met wonderful new friends.
Jack was smart, pragmatic, and a true realist. He was known for the many clever quips, quotes, and jokes that those who knew him came to adore. He had strong opinions and beliefs, and was passionate about the things he cared about. He also generously supported causes that were important to him. Perhaps his biggest beneficiaries were the wild birds, chipmunks and squirrels that he fed faithfully on a daily basis… they would often run up to the door to greet him when they heard it opening.
Jack was preceded in death by his parents, Jay and Evelyn; his sister and her husband, Beverly and Chris Brooks; and his father-in-law and mother-in-law, Lou and Irene Frantini.
He is survived by his wife, Nancy; their children, Julie Futterer and Eric (Brooke) Futterer; and his precious granddaughter, Molly Futterer. Jack is also survived by many brothers-in-law and sisters-in-law, nieces and nephews, cousins, and dear old friends.
The family would like to thank Dr. Tabraiz Mohammed; Dr. Mark Christiansen; Dr. Govind Ramadurai; Patty Peterson, APN, NP-C and all the doctors and staff who provided such good care for Jack.
Visitation will take place Thursday, January 26 from 3-8 p.m. at Fred C. Dames Funeral Home, 3200 Black Road, Joliet. Funeral services will begin at the funeral home at 10 a.m. on Friday, January 27, followed by a procession to the Church of St. Anthony, 100 N. Scott Street, Joliet for a Mass of Christian Burial at 11 a.m. Interment to follow at Woodlawn Memorial Park, Joliet.
For more information please call 815-741-5500 or visit his Memorial Tribute at www.fredcdames.com where you can leave an online condolence or share a favorite memory.
Visitation
3:00 pm - 8:00 pm
Thursday, January 26, 2023
Fred C. Dames Funeral Homes - Joliet
3200 Black at Essington Roads
Joliet, Illinois, United States
(815) 741-5500
Mass
11:00 am - 12:00 pm
Friday, January 27, 2023
Church of St. Anthony
100 N. Scott Street
Joliet, Illinois, United States
Burial
1:00 pm - 1:15 pm
Friday, January 27, 2023
Woodlawn Memorial Park
23060 W. Jefferson Street
Joliet, Illinois, United States
Share Your Memory of
John
Proudly Serving the Communities of Joliet, Morris, Shorewood, Plainfield, New Lenox, Manhattan,
Rockdale, Wilmington, Braidwood, Channahon, Minooka, Coal City, Seneca and Ottawa, Illinois. Serving
Will, Grundy, and Kendall Counties and as an approved airline transportation specialist nationwide of
global services.