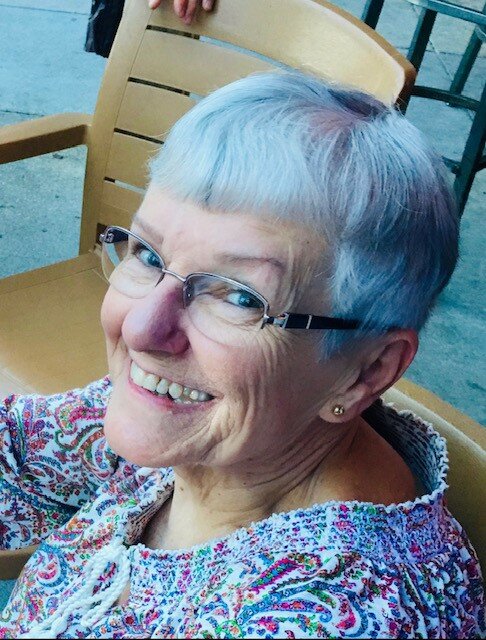 Obituary of Clara "Sue" Mihelich
Clara Susan "Sue" Mihelich (nee Bussey)
Clara Susan Mihelich passed away at the age of 82 on Saturday, July 22, 2023, at St. Joseph Medical Center with family by her side. Sue was born on November 15, 1940, the daughter of the late Walter and Catherine (nee Flynn) Bussey. A lifelong Joliet resident, Sue graduated from Joliet Township High School. After graduation, she worked for several years at Blockson Chemical Co. By far, Sue's far most important role was providing a loving household for her family. Her other roles included faithfully and loyally serving as a tutor for her children when they needed help with their homework and being a behind-the-scenes accountant and secretary for her husband Rudy in his work as KSKJ's Financial Secretary and other business ventures. She worked for many years at Labo's, Joliet Junior College, and Kinn Shaw. At each place, she had the opportunity to meet many people and make lifelong friends. She was, above all, the number one fan of her children and grandchildren and always cheered them on whether it was at a theatre, ballfield, or athletic court.
Sue is survived by her two sons, Ken (Amy) Mihelich and Dan (Dawne) Mihelich; her daughter, Mary (Mike) Hamilton;13 grandchildren: Julia (Ryan) Lowry, Hannah (Sam) Verplaetse, Jake, Zora, Olivia, Sophia and Lila Mihelich, Senior Airman Patrick and Liam Hamilton, Patrick, Michael (Madie) and Charlie O'Neill, and Rudy Mihelich; two great-grandchildren, Danny and Penny Lowry (and an O'Neill grandchild on the way); her sister, Patricia (the late James) Buchar; brothers-in-law, Lynn Krause, William Kursell, William Dow, and Frank (the late Barbara) Yattoni; sister-in-law, Millie (the late Howard) Weiler; and her cousin, Jim Ganson. Numerous nieces, nephews, and cousins survive.
She is preceded in death by her loving husband of 56 years, Rudolph Mihelich, Jr.; her parents; two brothers, Thomas (Noreen) and Walter (Mary) Bussey; her sisters, Catherine Krause, Mary Ellen Kursell, and Ginny Dow; and her niece, Chris Krause.
Funeral Services for Clara Susan Mihelich will be held at 9:00 a.m. on Friday, July 28, 2023, at the Fred C. Dames Funeral Home, 3200 Black Rd. (at Essington Rd.), Joliet, IL to St. Joseph Catholic Church, 416 N. Chicago St., Joliet, IL, where a mass of Christian burial will be celebrated at 10:00 a.m. Interment will follow at St. Joseph Cemetery. Visitation will be held on Thursday at the funeral home from 4:00 to 8:00 p.m.
In lieu of flowers, memorials in her name to St. Joseph Catholic Church would be appreciated. The family would like to thank the various caregivers at St. Joseph Hospital, Willow Falls and Sunny Hill Nursing Home who took such good care of Sue over the past several months.
For more information, please call 815-741-5500, or visit her Memorial Tribute at www.fredcdames.com, where you can share a favorite memory or leave an online condolence.
Visitation
4:00 pm - 8:00 pm
Thursday, July 27, 2023
Fred C. Dames Funeral Homes - Joliet
3200 Black at Essington Roads
Joliet, Illinois, United States
(815) 741-5500
Funeral Service
9:00 am
Friday, July 28, 2023
Fred C. Dames Funeral Homes - Joliet
3200 Black at Essington Roads
Joliet, Illinois, United States
(815) 741-5500
We will have prayers at the funeral home with procession to St. Joseph Catholic Church in Joliet, IL, with Mass at 10:00am.
Interment
St. Joseph Cemetery - Joliet
1500 N. Raynor Avenue
Joliet, Illinois, United States
Memorial Donations
In lieu of flowers, memorial donations may be made to St. Joseph Church, 416 N. Chicago St., Joliet, IL 60432