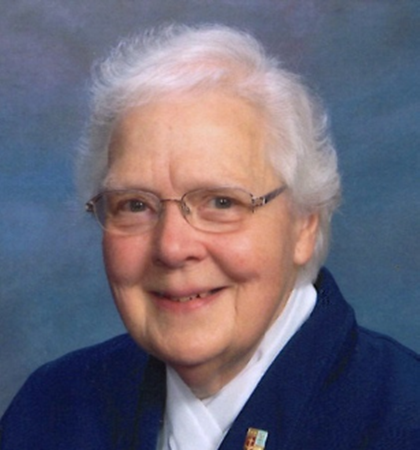 Obituary of Sister Helen Vahling, OSF
Joliet Franciscan Sister Helen (M. Barbara Ann) Vahling passed into eternal life July 29, 2023, at Ascension Living Villa Franciscan Place, a devoted and cherished member of the Sisters of St. Francis of Mary Immaculate for 69 years.
Sister Helen was born the second of five children to Anna (Osterhaus) and Ferdinand (Ferd) Vahling on May 31, 1934. She was preceded in death by her parents, Anna and Ferd Vahling, and her sister, Julie (Tim) Lynch. She is survived by her sisters, Sister Rita Vahling, OSF, Joliet, Illinois, and Mary (Daniel) Meinhart, of Montrose Illinois, her brother Raymond (Joyce) Vahling, Teutopolis, Illinois, and many nieces and nephews. She will be missed by all her friends, students and all those who were touched with gentleness and peace during her lifetime.
Sister Helen grew up on a dairy farm and attended Teutopolis Grade and High School. She received her high school diploma (1952) from St. Francis Academy and a BA in biology and education (1966) from the College of St. Francis, Joliet, Illinois. She received her MA in theology (1972) from the College of St. Francis, Joliet, Illinois. Sister Helen held a Clinical Pastoral Education Certificate from the Independence Mental Health Institute (1977), Independence, Iowa.
Sister began her career as an elementary school teacher. From 1954-1970 she taught in Rock Island, Chicago, Freeport and Joliet, Illinois. After 16 years, Sister Helen became Religious Education Consultant for the Diocese of Joliet, responsible for parishes in rural Ford and Iroquois counties. She later continued her ministry as Director of Religious Education, in Sterling, Illinois, then at her home parish Saint Francis of Assisi, Teutopolis, Illinois, and finally at St. Joseph Parish in Chatham, Illinois (2004). Sister Helen received the NCEA Religious Education Department Award (1997) for excellence and significant contributions to Parish Religious Education.
In 2005 Sister Helen became a core member of St. Clare House of Prayer, a contemplative community of the Joliet Franciscans, where she offered prayer, presence and service to the Kankakee and Joliet areas until 2020. Often, she would lead the rosary at Emeritus Senior Living, Joliet, Illinois, for a group of seniors suffering from memory loss or Alzheimer's. Sister Helen continued embracing her call to the ministry of prayer and presence until her final days.
Visitation for Sister Helen Vahling will be held at 10:00 a.m. at St. John the Baptist Catholic Church, 404 North Hickory Street, Thursday, August 3, 2023, followed by the Mass for Christian Burial at 11:00 a.m. Remembrances and committal will take place at approximately 12:00 p.m. in the Chapel at Resurrection Cemetery, 200 W. Romeo Rd. Romeoville, IL 60446. All are invited to attend.
If you would like to make a donation in honor of Sister Helen Vahling or another Joliet Franciscan Sister, please send your memorial to the Sisters of St. Francis of Mary Immaculate, 1433 Essington Road, Joliet, IL, 60435.
Visitation
10:00 am - 11:00 am
Thursday, August 3, 2023
St. John the Baptist Catholic Church
404 N. Hickory Street
Joliet, Illinois, United States
Mass for Christian Burial
11:00 am
Thursday, August 3, 2023
St. John the Baptist Catholic Church
404 N. Hickory Street
Joliet, Illinois, United States
Remembrances and committal
12:00 pm
Thursday, August 3, 2023
Resurrection Cemetery, Romeoville
Rt. 53 and W. 135th Street
Romeoville, Illinois, United States