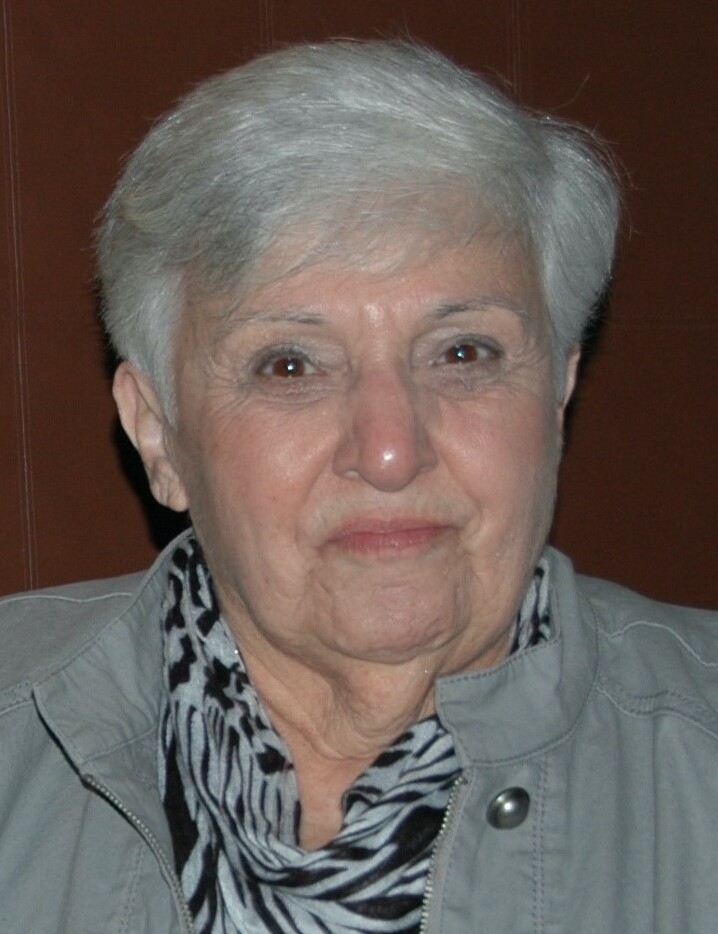 Obituary of Loretta Elaine Crawley
Loretta Elaine Crawley (nee Sarcletti)
Loretta Elaine Crawley, age 91, of Joliet, passed away peacefully, Saturday, September 30, 2023, after a brief illness. Loretta was born in December 1931, in Joliet, the daughter of the late Lawrence Fiorenzo and Mary (Zini) Sarcletti. She was a graduate of St. Patrick's grade school and Joliet Township High School, where she developed a love of singing. Her naturally beautiful singing voice and love of musicals landed Loretta the lead role in many plays and operettas.
As a daughter of immigrants in the Great Depression, her family often struggled to get by. She and her sister, Marge, grew up having few material possessions and believed "wealth" came from love, devotion to family, and service to others. She was guided by her catholic faith and was instilled with a deep sense of compassion and empathy. Believing that we are all called to serve the "least of our brothers," she was unable to pass a person in need, and always offered a smile and kind word to those who appeared dejected or lonely. Acting on a calling to serve others, Loretta attended the St. Joseph Hospital School of Nursing and became a Registered Nurse. She worked in the emergency room at St. Joseph's Hospital for more than forty years. She cared for thousands of people who were often in their hour of greatest need over the course of her career, and it was not unusual for strangers to stop her in public years later and thank her for her care. Loretta often personally purchased clothing and toiletries to give to patients who needed them.
Loretta met the love of her life, Thomas H. Crawley, and they married in 1956; together they raised three children. She was tireless in her service to her family and others. After working long hours, she still managed to cook excellent meals, care for her ailing parents, tend to sick neighbors, volunteer at church, and on more than one occasion, complete her kids' science fair projects late into the night upon learning they were due the following day.
She was a member of Holy Family Parish and previously St. Patrick's Parish, where to the embarrassment of her children, heads of parishioners would often turn in search of the source of the beautiful operatic voice coming from the middle pews. People were often stunned to see that strong voice emanating from her small 4'10" frame.
Loretta is survived by her children, Thomas J. (Diane Tomac) Crawley and James P. (Daniel Ingram) Crawley; and devoted son-in-law, Michael Phillips. She was the proud and loving grandmother to David T. Crawley, Carrie M. White, Elizabeth M. Dionne, Tiffany Roulo, and Keith Phillips; and great-grandmother to Jase and Kenzie White, Ashley and Tyler Girard, and Sophia Phillips. She was loving aunt to Mary Bebar, Joann Hayes, and Mark Ready, and great-aunt to many special great nieces and nephews.
She is preceded in death by her husband of 65 years, Thomas H. Crawley; her daughter, Deborah M. Phillips; her sister, Marge Ready; sister-in-law, Sharon (Charles) Lawson; brother-in-law, Peter Ready; nephews, Michael Ready and Jeff Lawson; grandson, Brendan Phillips; her in-laws, Charles F. and M. Patricia Crawley; and Loretta and Tom's infant twin daughters who passed shortly after birth.
Visitation for Loretta Crawley will be held Wednesday, October 4, 2023, from 8:00 a.m. to 9:15 a.m. at the Fred C. Dames Funeral Home, 3200 Black Road, Joliet. Funeral services will immediately follow at 10:00 a.m., at Holy Family Catholic Church, 600 N. Brook Forest Drive, Shorewood, where a Mass of Christian Burial will be celebrated. Entombment will be in Resurrection Cemetery, Romeoville.
Loretta's family is indebted to the compassionate caregivers at Lightways Hospice of Joliet, who provided her great care and comfort.
In lieu of flowers, memorials in her name to Lightways Hospice would be appreciated or you may best honor Loretta by following her example and quietly helping someone in need.
For more information, please call (815) 741-5500 or visit his Memorial Tribute at www.fredcdames.com where you can share a favorite memory or leave an online condolence.
Visitation
8:00 am - 9:15 am
Wednesday, October 4, 2023
Fred C. Dames Funeral Homes - Joliet
3200 Black at Essington Roads
Joliet, Illinois, United States
(815) 741-5500
Funeral Service
10:00 am
Wednesday, October 4, 2023
Holy Family Catholic Church
600 Brook Forest Ave.
Shorewood, Illinois, United States
Entombment
Resurrection Cemetery Mausoleum
Rt. 53 and W. 135th Street
Romeoville, Illinois, United States
Family and friends are invited to meet directly at the cemetery after Mass.
Memorial Contributions
In lieu of flowers, memorials in her name to Lightways Hospice would be appreciated or you may best honor Loretta by following her example and quietly helping someone in need.