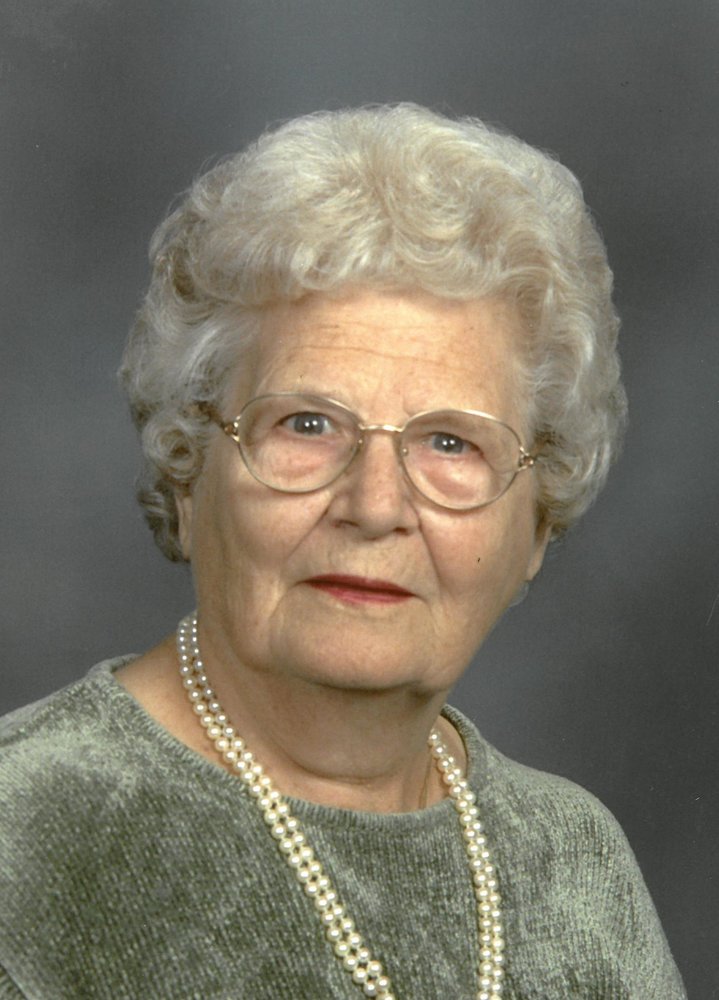 Obituary of Elizabeth Fretty
Elizabeth J. Fretty (nee Scholp)
Age 98, of Joliet, passed away peacefully at Parke Pointe, Morris, on Friday, September 22, 2017. Elizabeth was born June 17, 1919 in El Dorado, Kansas to the late Hazel (Ingalls) and Earl Scholp.
Elizabeth graduated from Joliet Township High School with the Class of 1938, and attended her class reunions through at least their 70th reunion. Elizabeth worked at Silver Cross Hospital as a technician in Labor and Delivery for 24 years.
She was a devoted Christian and dearly loved her church friends and pastors at Messiah Lutheran Church, of which she was a member for 76 years. She also participated in the Church Quilting Club, King's Daughters, and the Silver Cross breakfast group. She was a voracious reader, and was active throughout her life, enjoying walking, golfing, and fishing, in addition to participating in a Senior Bowling League until she was 94 years of age. She loved spending time with and playing cards with her dear late friends Alma Kolodziej and Claire Hayen; she and Claire enjoyed traveling all over the world together as well. Elizabeth loved being with her family, attending their parties, holiday celebrations and sporting events, and was especially thrilled to attend several World Series games that her son-in-law, Ed, and grandson, Scott, played in. She, Ann, Ed and Verna Spiezio also enjoyed many two week trips to the west coast to watch Scott play in the MLB.
Elizabeth was married for 48 years to the late Howard Grant Fretty. She is survived by her beloved children Verna (Ed) Spiezio of Morris and Glenn (the late Linda) Fretty of Champaign; her adoring grandchildren Deborah (Tom) Siebers, Suzanne (Steve) Hilton, Scott Spiezio, Sandra (Jon) Awles, and Beth Fretty; and loving great-grandchildren Sam, Alyssa, and Jessica Siebers; Maggie, Max, and Zoe Hilton; Tyler Spiezio, Cody, Tessa and Sullivan; Canyon Awles; Sabrina Smith; and Aryana Summers. She was the dearest sister of brothers Clifford (the late Mary) Scholp and Wayne (Cathy) Scholp, and beloved sister of the late Frances (Robert) Donnelly, Elmer (Valerie) Scholp, and Samuel (Donna) Scholp. She was loved and will be missed by many nieces, nephews, cousins, friends and former co-workers.
Elizabeth loved life and deeply loved and appreciated everyone who touched her life. Her family is especially grateful to Karen Nygard and Darlene Matison, and to Rose Ann Sochan, her favorite pianist, for the many kindnesses they have shown to Elizabeth over the years.
Visitation will be held on Wednesday, September 27, 2017 from 4:00 to 7:00 p.m. at Fred C. Dames Funeral Home, 3200 Black at Essington Roads, Joliet. On Thursday September 28, 2017, there will be visitation at Messiah Lutheran Church, 40 Houbolt Road, Joliet, at 10:00 am for one hour, with funeral services officiated by Pastor Dave Nygard to follow at 11:00 am. Interment will be at Woodlawn II Cemetery, Joliet. In lieu of flowers, memorials in her name to Messiah Lutheran Church's "Family Life Center" Campaign would be appreciated. For more information, please call (815) 741-5500 or visit Elizabeth's Memorial Tribute at www.fredcdames.com