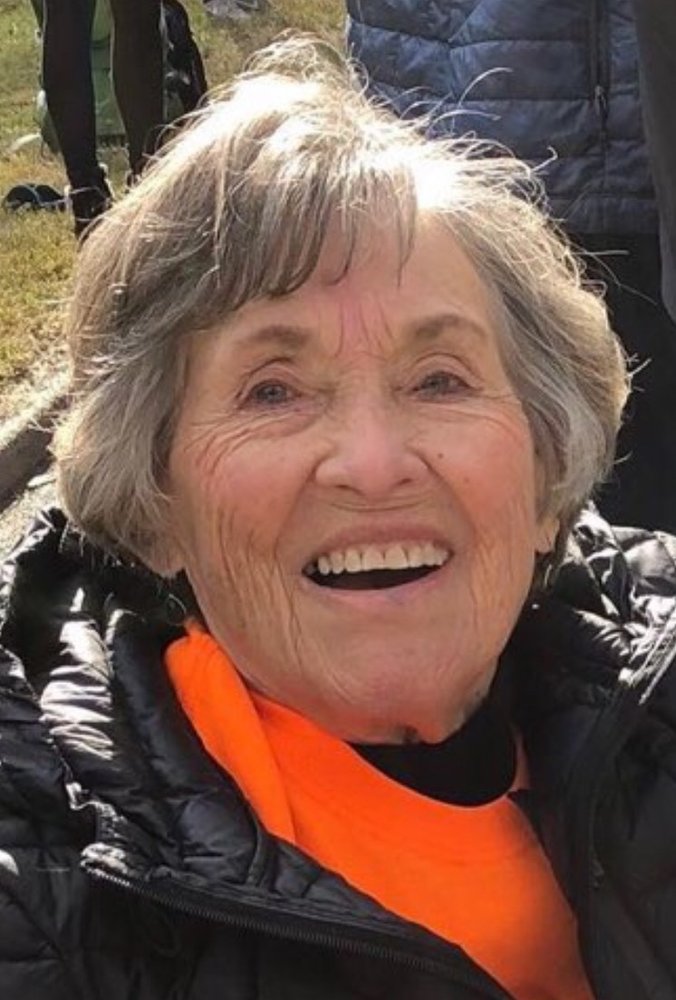 Obituary of Mary Beth Wilhelmi
Mary Beth Wilhelmi
Born: February 26, 1933
Died: February 14, 2021
After a blessed and meaningful life, Mary Beth Wilhelmi (nee Adler), age 87, is at rest and home with her Lord. Mary Beth's strong and loving spirit recently experienced a stroke. In her final days, in Mary Beth fashion, she held on to welcome her entire family and closest friends for an old-fashioned "Wilhelmi good-bye". Graciously, her body and her Lord confirmed it was time to join her loving husband, Arthur of 59 years, in her special place in heaven.
Mary Beth was born February 26, 1933, the daughter of the late Joseph L. Adler and Rachel (Heintz) Adler. She was a lifelong resident of Joliet. Mary Beth grew up just down the street from the Cathedral of St. Raymond and attended grade school there (class of 1946). She went on to St. Francis Academy (class of 1950) with fond memories of her many friends. Mary Beth continued her education at St. Mary's College in South Bend, graduating in 1954 with a degree in Sociology. As a young, energetic, and adventurous woman, she took a 6 month trip to Europe with friends and was proud of their efficiency staying in hostels and buying an inexpensive car to travel from country to country. Mary Beth then returned home and was employed as a social worker for Catholic Charities of Chicago and a teacher for Joliet Public Schools. From the very start of her adult life, Mary Beth embarked on her mission of spreading God's word and love.
Mary Beth married the love of her life, Dr. Arthur P. Wilhelmi, and continued her journey of giving back to her community by leading the Joliet Guild Club as President, starting Operation Friendship, and volunteering with many organizations, including the Visitation and Aide Society, Joliet Hospice, Daybreak Shelter's soup kitchen, and The Upper Room Crisis Line. Mary Beth had a deep and devoted faith in her Lord and Savior until her very last breath. She adored and hosted The Hearts on Fire prayer group weekly, and attended Mass daily at her dear Sacred Heart, St. Jude's, or St. Raymond's.
Mary Beth loved travel, music, golf, playing games (especially cards), painting, and reading. Any family gathering brought her joy and laughter, including special times at Coal City and Fountainview with the Adlers and Hills. Mary Beth was a wonderful and gracious host for any gathering, large or small, especially at the family home on West Acres Road.
Survived by her loving children, Steve (Sara) Wilhelmi and their children, Adam (Nikki), Jason, and Alex (Savanna) Wilhelmi; Mimi (Tyler) Ford and her children, Matthew (Danielle) Emich, Elena (Scott) Perlman, and Tommy (fiancé Markleigh) Emich; David (Maggie) Wilhelmi and children, Katelyn, Erin, and Sheila (fiancé Cole) Wilhelmi; Lauri (Gary) Scott and children, Patrick, Justin, Andrew Scott; Kati (Mike) Bennett and children, Colleen, Tim, Stephen Bennett; A.J. (Michelle) Wilhelmi and children Maycen Pirc, Laine and Marin Wilhelmi; great-grandchildren, Jacob and Natalie Emich, Breanna and McKenna Wilhelmi, Ella and Henry Perlman, Lilly and Leo Wilhelmi; sister-in-law Dorothy Adler; and numerous nieces, nephews, and cousins.
Preceded in death by her loving husband Art, their infant daughter Sara Lynn (1966), her beloved grandchild Ethan Scott, brother Joseph L. Adler Jr. and sister in law Jodie, brother John (Jack) C. Adler, sister-in-law Donna Hills and brother-in-law John Hills, nephews Michael Adler and Jack Hills, and niece Patty Adler.
The family would like to extend their heartfelt gratitude to AMITA St. Joseph Medical Center for their care and support, as well as the staff at Joliet Area Community Hospice, especially Margi, for all their love and care of both Mom and Dad.
A private family Mass of Christian Burial will be celebrated on Friday, February 19th, 2021 at 10:00 A.M. Due to the Covid-19 restrictions, the family is holding a private funeral service. Please join in prayer for Mary Beth and her family at the live stream of the Mass by going to http://www.othervertical.com/marybethwilhelmi/. In lieu of flowers, memorials in Mary Beth's name to Joliet Area Community Hospice and Sisters of St. Francis are greatly appreciated.
The family requests and encourages you to leave a favorite memory or online condolence on her Memorial Tribute page at www.fredcdames.com.
Memorial Contributions
In lieu of flowers, memorials in Mary Beth's name to Joliet Area Community Hospice and Sisters of St. Francis are greatly appreciated.